Review: The Ohio Knitting Mills Knitting Book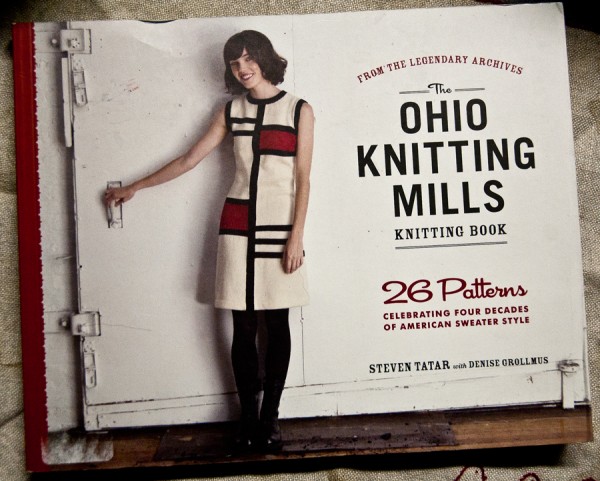 When I first sat down to review this week's book, The Ohio Knitting Mills Knitting Book: Celebrating Four Decades of American Sweater Style
, I approached it like all my craft books. I read through the index, skimmed for the projects that grab my attention, read through the actual patterns to see how well they are written, and then finally and lastly read the intro.
Well, that's when the my approach was completely detoured. The Ohio Knitting Mills Knitting Book
 sucked me in and I spent the rest of the evening reading this combo of the two things I love – knitting and history.


I was first drawn to the book by it's "vibrant vintage" sweater patterns, and completely then hooked by the stories behind the knitting. The rise and fall of not just this particular knitting mill, but United States textile manufacturing as a whole. Plus there's these really great design touches like using the sketches of the sweaters for the inside flap of the book, which just adds to the depth of the book.
The general premise for The Ohio Knitting Mills Knitting Book was sculpted around a treasure trove of never-worn-perfectly-preserved sweaters discovered by Steven Tatar. He sold them in a boutique as they were, which sold out quickly in just 3 years. Then he partnered with Denise Grollmus to write the book to continue their legacy, and the knit & knitting mills from that era. The patterns included in the book were adapted from the original sweater archive and written by Alexandra Virgiel.
There are 26 patterns in The Ohio Knitting Mills Book, each of which show the original sweater alongside the updated design, plus the story of the sweater within the larger context of american 20th century culture.
For instance, while I loved this cute short sleeved sweater for just being what it is, I had no idea why this style was referred to as a Poor Boy. Not only do they explain the sweater design's origin, but also show 6 other design examples. I love the yellow and blue zigzag.
The book is divided into decades, starting with the 1940's and ending with the 70's. Funk-tastic. I really want to knit this 1950's sweater for Jason. He would look so smart.
And for me. I would look so savvy in this 40's classic.
And this bag inspired by the 70's would rock at using up some of my leftover bulky wool. I like the way they re-enforced the strap with woven tape.
Here's the book's stats:
Paperback: 168 pages
Publisher: Artisan (August 9, 2010)
Product Dimensions: 7.9 x 9.8 x 0.6 inches
In full disclosure, I haven't knit any of the patterns out of the book yet, have you? What did you think? Were they easy to follow? From reading through they seem well organized.
Happy Knitting!
Kristin M Roach