In the


Shop

Each Wednesday I post something new in the shop and chat a little bit about it.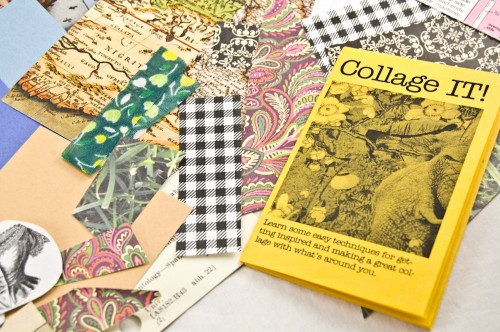 I love this little kit and it's been out of stock for far too long. I get to dig around in my box of favorite paper scraps and collect up a series of patterns, text, and pictures to inspire both you and me to play with collage. The pictured kit is an approximation of what you will receive. Each kit is unique but are made in batches so contain the same style and amount of papers shown. For me, it's always a treat to put together and to read about and see what you come up with.
You get a whole bunch of scraps of this and that: maps, sheet music, calendars, vintage magazines, photo copies from old books, vintage book pages, scrap book paper, graph paper, lab paper. And of course I include a piece of mat board if you want to make your collage as a post card or some other art paper for hanging on the wall or mounting.
I first made this kit to go along with last year's July issue of Craft Leftovers Monthly. It was all about zine making and collage fit the topic perfectly. The instructions for the minizine were originally in the May issue–which is all about sending things in the mail.
::The Details::
Kit Includes everything you need to make your own collage (or two!):
Collage IT! Mini Zine
1 – 4×5.5″ piece of mat board to use as a post card
1 – 4×5.5″ piece of drawing paper for a collage base
Many many scraps of patterned and vintage pieces of paper.
This particular batch includes pieces of maps, sheet music, vintage magazines, and copies of victorian ladies.
Have you made a collage from the Collage IT kit? Add it to the Craft Leftovers Flickr Group!
Happy crafting!
Kristin