Free Crochet Pattern: Lanel's Mitts
First published in 2009, these are mitts I still use and continue to be a favorite for foraging, photography, and hiking in the snowing northern winters. This revision I'm adding a new photo to give better context to the naming. Enjoy!

Kristin M Roach 1/1/21
I wear fingerless mittens so my fingers can be fidgety while wearing them and warm. It never fails that while I can use my fingers without gloves, my hands are freaking cold. No more. Taking inspiration from my nerdy star trek loving side, I made fingerless mittens that make my hands feel like Riker's must have while disguised as a Malcorian.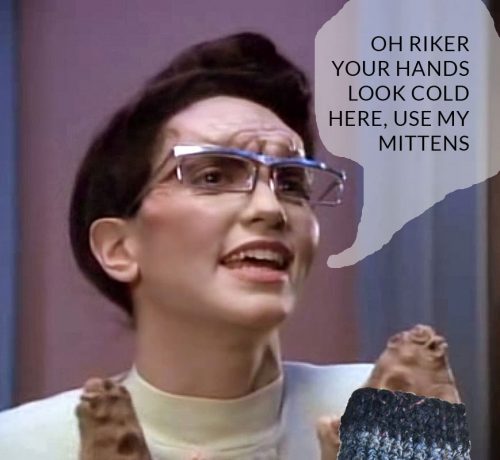 Yes I did look it up, I'm not so entrenched in it that I remembered off hand. As an added bonus, I came across the name of the nurse Riker had a "close encounter" with, which is who the pattern is named after.
Yep, you can say it…N.E.R.D. It's okay, it's fun, hehe. I made these with some remnants of a seemingly unending supply of Tatamy Tweed and some handspun I worked up a year ago. So glad to finally find a use for both.
---
---
Have a great weekend and happy crocheting! Kristin