Carrie Suchman of Marmalade Cheeks and What Carrie and Friends Made for Dinner was so kind and sent me this great Guest Craft Leftovers Pattern! It is a personalized Patchwork Tea Towel that you can make from scraps of this and that for friends and folks you know and love. I really like the transfer method she used for the personalizing, so make sure to check it out!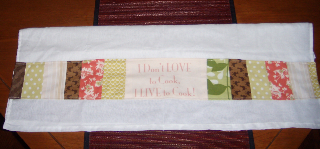 Download the pattern here (pdf).
Now remember, Craft Leftovers Monthly is going into the shop tomorrow afternoon, so I will see you all then!
++Kristin Roach++
ps – the bfa show was a smash and I will be adding pictures and more info to my other blog too, a lot of exciting stuff going on for sure! I'm hoping it's true that things are slowing down, but that is yet to be determined, my fingers are crossed.