While some of you may doubt the "leftoverness" of this book, let me assure you that Painted Pages
is filled with wonderful ideas how you can take those smallest of small treasured scraps and integrate them into beautiful works of art all your own.
Not an artist? Let me assure you about that right from the start as well. This book inspired me to leap into my studio several times and it will inspire you to crack open a journal or test the waters in collage as well.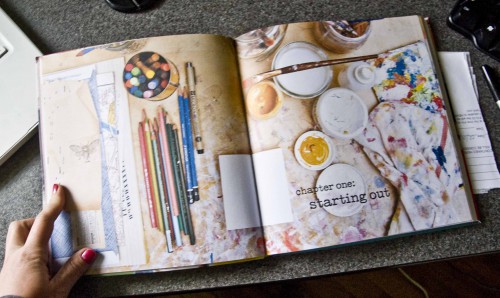 She explains her process clearly and gives ideas on organizing thoughts. She then steps out some fun warm-up exercises to break up the white of the page and make art making a pretty approachable endevor.
I'm going to share some of my sketch book fun from the past few days along with the pages from the book that inspired them. I hope you will take the plunge with me and make a few of your own scrappy creations.
I regularly use my sketchbook to map out ideas, journal, and capture fleeting inspiration. Sometimes I forget that. Sometimes I get intimidated by "what" and "why" to draw. I really loved the idea of having a scrap box on my desk to help get things started.
On page 38 Sarah explains how a clean work surface makes all the difference. But instead of telling you which cleaner to use for what, she suggests you sweep all the little bits into a nice big jar or box or basket. Then, use those bits to "sketch" in your journal and get your creativity warmed up. "I sweep my pile of scraps into tins and use them for fun warm up activities."
I found this while decluttering my studio stuff. I have this flash of a memory of it sitting on my mom's hutch and always being brimming with buttons and thread and sewing things.
The author uses quite a few old photos in her work and throughout the book I kept thinking, "Is she really just destroying all of those neat old vintage books? What if she wants to use something twice?" Well, come page 90 she answered my question. She uses an really neat transfer technique using contact paper and color laser copies. I tried it out this week with this fun image of my grandma and grandpa. It worked like a charm.
The book also talks a lot about process and continuing to work even when you aren't inspired and along those lines, being keenly aware of "peak creativity" times. While you should do all you can to get things rolling, don't try and fight your natural state. I know I do best making art work first thing in the morning or extremely late at night (like past 11pm into 3am zone). So I've been trying to get up early so I can eat breakfast and work in the studio for a couple of hours before heading to the gym.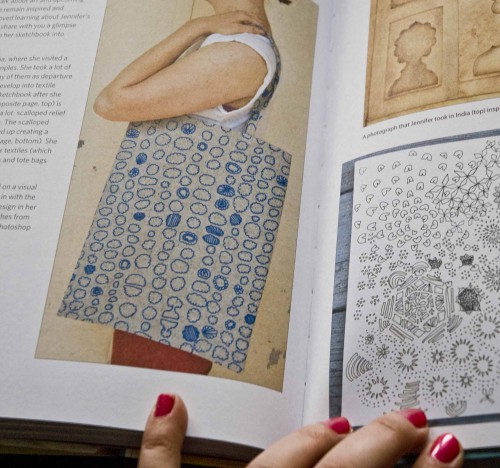 She also features quite a few other artists and has them explain their own unique creative process. Everyone focuses around mixed media work, being inspired by collections, found objects, and little pieces of their own past.
After finishing the book, I went for a walk with Jak. My eyes were so much more in tune with all the odd shapes and textures around me. I found these:
I am totally going to draw these after this post goes live.
If you want to get your sketchbook feet wet, definitely pick up "Painted Pages." If you are an artist and want to infuse your studio practice with some new techniques and practices, this is great for that too.
And some final words from the book to inspire: This book is all about, "…finding your own way, in the everyday, to be creative and make art."
Happy making!
Kristin