Good Mail Day: Postal give away and On great mail day!
Monday was an exceptionally great mail day!
A bounty of beads and neat fabric from freaking Africa from my buddy Amy (I was lucky enough to meet her while out in California this past summer).
Wrapped in this amazing fabric. 
Aren't these absolutely amazing!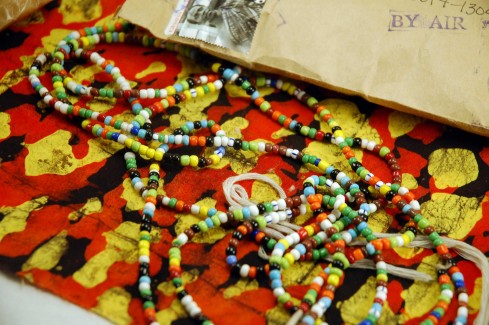 And these too!
And these!
I don't even know what I'm going to do with them, but on the top of my list is earrings and a necklace… for me and a friend.
And then, check out these neat postcards readers sent in!
The one on the left is the winner of the giveaway and Good Day Mail is in the mail on it's way to her right now.
Ahhh, I love getting mail!
One last awesome mail thing! Here in Ames we just had the 9th annual postcard exchange exhibit! I love this town! Anyway, it's an international exchange and they have already put out the call for the next year!
The theme is X, as in 10, but you can interprut it anyway you want. It's a printmaker exchange, so prints only please – but the definition is pretty broad (see below). You send in 13 postcards, they ship 12 other artists' cards back to you and keep one for the exhibit. Pretty sweet huh? I think so. I'm totally going to carve up a block for this.
The deadline for submission is February 20th, 2010! I'll put it on my calendar so I don't forget and I'll remind you when it's getting closer. You can see more photos of the exhibit on the University Printmaker Society facebook page. 
Here are the submission details:
 

You are invited to participate in the 10th Annual University Print Society Postcard Print Exchange

The theme for this year's exchange is "X"  (Feel free to interpret the letter/symbol/arrangement of lines as openly as you would like)

Requirements:

1) Any  printmaking technique maybe used. (woodcuts, litho, intaglio, photography, silkscreen, digital printmaking, etcetera)

2) Create 13 duplicate postcards, each must be 4″ x 6″

3) The 13 identical prints should be sent individually to the address posted below. Each card must be stamped and will bear the markings of travel and the postal service. (Do Not send the cards together in one envelope.)

4) Include the following information on the back of the card:

       

 

a. Your name and return address (legible please)

       

 

b. April Katz' address (details below)

       

 

c. A sentence or fragment or word or thought with the letter

 

X

 

in it (be as profound or

            unprofound as you would like)

       

 

d. Your e-mail (optional)

5) If you can, send (separately) a small donation of $8 ($4 for students) to help pay for postage. Checks payable to The University Print Society.

Send postcard prints to:

April Katz

University Print Society

158 Design

Iowa State University

Ames, IA 50011-3092

USA

 ENTRIES DUE: February 20, 2010

After receiving everyone's postcard prints the University Print Society will  divide up the cards and you will be sent 12 new and different prints from other participants. The University Print Society will keep one of the 13 for its collection. Postage for returning the 12 new prints will be paid for by the University Print Society, however your donation will help us out tremendously.

*Please send questions and comments to the University Print Society president, Daniel Stender <

dlstender@gmail.com

>