After Renegade I was floored with how exhilarating it was getting to meet so many of you! Blog/Zine making is such a solo act. I still don't really understand what "40,000 unique visitors a month means" because if I did, I think I would have a panic attack.
But going to a distant city and having a dozen people come up and say they've been reading my blog for years and are happy to get to meet me makes my month! So, I'm doing it again! Not Renegade (yet), but Chicago! Ah, I do love that city!
This weekend I'm leaving Iowa for another adventure there to sell zines, meet folks, swap zines with other zine makers, and in general have a good time and get inspired.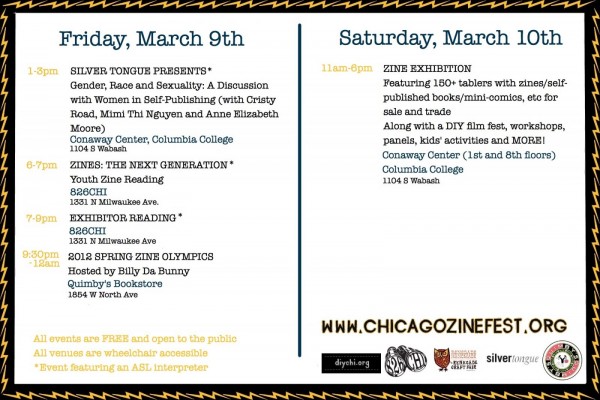 I'm super excited, dare I say it: *stoked*, to be doing a zine fest. I've only ever done fine art and indie craft shows before, which are awesome fun, but not quite the same as a zine fest. It will be interesting to see the response I get from other zine makers. Having Craft Leftovers looked at from that perspective will be, well, I'm not sure. Hopefully good!
There's going to be 150 exhibitors there, I'm in booth #70 on the 8th floor (Conaway Center Columbia College). And there's also a load of workshops on Saturday on the 8th floor too! I'm actually a little jealous of Jill who will get to wander around and do all these things. Happily I'm getting there in time on Friday to attend all the talks, readings, and the after party.
I'm going to be taking orders for the book, box sets, and subscriptions and I'll have a pile of the current issue on hand to sell. And I'll have every zine I've every made there so you can thumb through them when you stop by my booth. I actually built theses sweet wood displays for the zine so it's set up like a little library.
Oh, shoot, I should take a picture and show you, it's pretty neat. I got a bug in my bonnet about it the night before I left for Renegade and went nuts building them in the basement. Ha. Well, I think it was worth it. Here, just snapped this photo for you: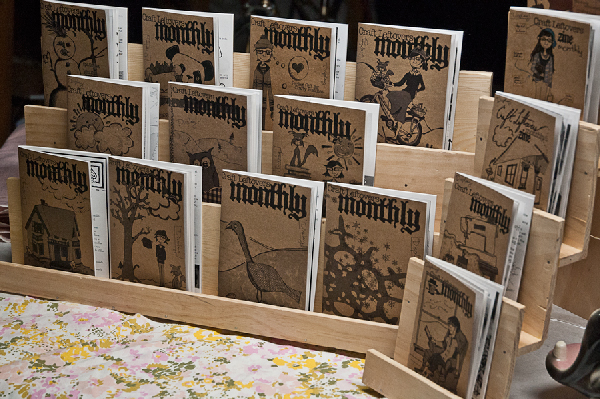 While I'm in town I'm going to check out a few local craft shops. I'm particularly interested in going to the Needle Shop. And I just have to have one of those amazing grilled cheese sandwiches from the Heartland Cafe at some point while I'm there. Any other must see craft places/indie clothing shops I need to check out? Let me know, your local knowledge is a treasure!
I hope to see some more of you there. If you do, I'll have a special little something something just for you!
Happy Crafting and Zine Making!
Kristin M Roach