Lately I have been loving paper crafts. Maybe it's that you can get a lot done in a short period of time. Or that it combines my love of illustration, xacto knives, and glue of all types. Or that there have just been some really freaking cute projects floating around that I'm loving. 
So what do I do for fun when my fun is work? I make these fun little japanese paper cut out 3d models. I particularly love the little veggie and fish stands. I came across this link, not sure where, to a website full of japanese paper models that you can download, print, cut, glue and hooray a little building! Or sushi or cat or whatever your flavor might be. Whenever I get shifty and fidgety to get my hands on something instead of writing or planning or whatever, I put together a couple of crates and cut out a few veggies, hehe. 
I got it in my head that this would be fun way to make an advent calendar. And while it's not finished (look for it on Friday as a free download), I'm pretty close to being done. Here was my first very rough draft.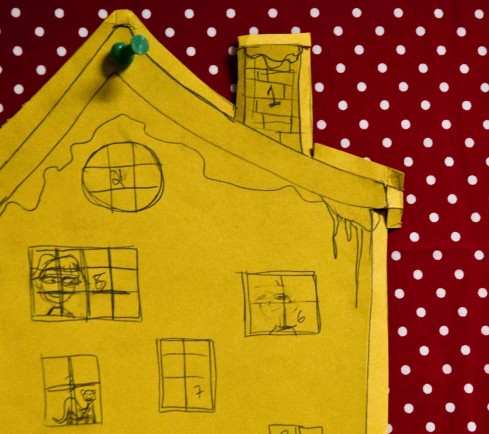 I'm having a whole lot of fun working with paper lately and I think you will really dig this crafty little advent calendar. The great thing about it, is that the little boxes that go behind the windows can all be made from different papers. I have a stack of scrap card stock that I am flying through. I'm thinking about making a few and putting some Stam Chocolates in them. Since it's for 12 days of christmas instead of the whole month, I still have a little time to make and give them away. 
Happy Crafting!
Kristin