Since it's turned dreadfully cold here in Central Iowa, I've been on the look out for a good hat to wear under my bike helmet. (Safety first, right?) I found a few, but they are, well, expensive. So I decided to do a quick search around for a winter cycling cap pattern and while I didn't find a winter one, I did find one I could easily alter.
Flickr user PandaFace was nice enough to post a template for the hats he's been whipping together + I made my own template up for the back flap. It worked perfectly. Especially after 5 rounds of tweeking.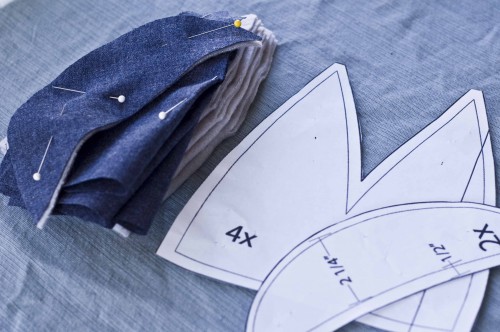 This project definitely did not go as planned. I thought from the start that I would "whip" one together no problem. But I made the classic mistake of not checking my "gauge." He indicated the size it was supposed to be printed out and I just got so excited that I whipped it together without thinking about it. The result was a humorously too small really cute cycling cap. No worries. I'm making these things with fabric I dug out of my leftovers bin, so no fretting here. There's plenty of this cheap-o fleece left.
Ironing is key. King. King Key.
The next one was too big.
Then the next was a box instead of a dome.
The forth was a dome, but way too short.
It was a combination of getting the angles, length, seams, and everything just right and it was all going wrong. I was determined. I prevailed.
By the end of it, I only had little scraps left. I had to map out the placement of each piece just so because any waste would have resulted in not making a hat. The fifth was just right!
I was so excited about my hat, and rightly so. I did use my only night off for the week to binge sew for 8 hours straight or so. Anyway, so I wear it to the sewing group on Saturday afternoon. My friend (who has been going on Sunday rides with me in this crazy cold weather) liked it so much that she asked me to make her one too. We agreed on a price and I finished up her hat and delivered it (by bicycle) yesterday afternoon. She wore it on our ride and said it really helped keep her ears and everything else warm. Excellent. Definitely has the wheels turning (along with a few other events). I'll tell you more about that in another post at a later date though.
What determined crafting adventures have you had lately? Do you ever just get a bug in your bonnet about a project you can't figure out and hammer away at it until you finally get it?
I'm off to go ride my bike!
Happy crafting (and cycling!)
Kristin Roach