My chickens have started flying the coop, literally. They've figured out how to hop over the fence, well, hop fly. And unknown to me, the decrease in egg production was actually them just preferring a more natural nesting environment.


It was kind of fun finding them there as I was bush-whacking the old garden plot. But, they are also getting into the garden and eating all my everything. And they can also fly over the fence and get into the neighbor's yard. One day, he found one in the garage.
This weekend, Jason and I finally did what we had been avoiding and clipped all their wings. We followed the instructions from this video and it went without a snap.
It was quick and painless for the us and the chickens. Though they are annoyed they can't fly the coop anymore.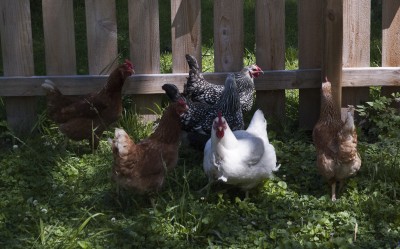 Hope you had some fun adventures in the backyard this weekend too!
Kristin