Free Crochet Pattern: Tribble Trivet
A reader request from @FA3RYL on Twitter bumped this to the top of the list to add next. Still love this crochet pattern, so I was only too happy to oblidge. I may just hook it up myself. The original is long since missing and I am in need of a new trivet. I wonder if I could mod a mini version as some coasters too… hmm. Originally posted July 2009.
One of the things I like the most with crochet is that it works up to be a nice thick fabric. Unfortunately it can be a little holey if it's not worked tightly enough, so what would ideally be a nice pot holder is better served as a trivet. And really, what do you need more than 2 pot holders for – trivet though are what you really need a ton of – one for each dish you put out on the table actually. And since they are part of the dinner spread, why not fancy them up a bit? Plus, but using two colors instead of just one, this pattern works nicely for using up those last 10g of kitchen cotton.
Click here to download the Free Tribble Trivet pattern.
If you are on ravelry, add it to your notebook and your pattern library by visiting the Tribble Trivet pattern page.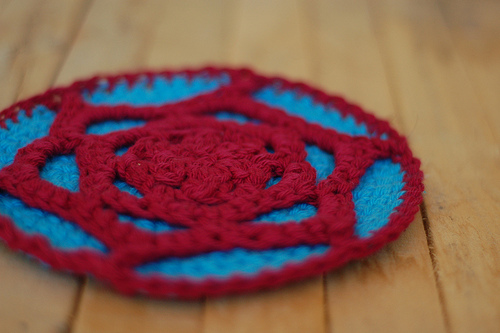 I have this pile of kitchen cotton mini balls, have been wanting to practice some crochet motif work, and I also wanted to play around with making crochet charts. Practice makes perfect and using up my leftovers is such an added bonus to this project. So make sure to let me know if you have issues with this chart – it is a little tricky because of the way you have to sl st to the middle of the ch space, but I think you can handle it. It's written out as well as charted.
Oh and this motif pattern is a variation on a motif from 300 Classic Blocks for Crochet Projects by Linda P Schapper (affiliate link). I checked it out from the library on Monday. It is really good and has many interesting blocks to try out. I've been kind of frankensteining them with my own ideas or a few together with good results.
See you all on Monday! Happy Crocheting!
Kristin