Love this tote and re-reading this post had me thinking… where did that bag go! It would be excellent to pack my lunch in. This fun little tote was originally made to fit in the basket of my bike in college, then used to carry my lunch once I was in Ames. Now… unsure. This post is a combo of two posts. The original and a follow up about using it as a lunch tote. Thanks to Jill L. on Facebook for requesting this one next. Originally posted pre May 2008, I was still in DeKalb for sure.
I'm going to be riding my bike all over kingdom come in the purest of spring delights. The breeze will be in my hair as I enjoy the excuse of grocery shopping to take a bike ride after class and/or work.
Which brings me to the point of today's (this evening's/morning's) pattern. I have a basket on my bike, which can be taken off, but with a lot of pain and suffering on the part of all parties involved, so how to know when the right amount is to ride back with, without pain and suffering.
A grocery tote to fit my basket is in order! I say, make your bag out of whatever you please, out of what will make your heart delight while filling it with books, groceries, flowers, or maybe even an abandoned kitten, well that's just a bad idea, nix the kitten in the basket tote idea, I could just see hitting a bump and… well, I'm not going there…
Flowers, flowers are nice in a basket tote. But on the hitting of bumps topic, I really despise outside pockets on a basket tote because well, hit a bump and there goes your keys/cell phone/wallet/kitten. No good. So this little guy has inside pockets… with buttons for keeping things in!
I made this tote bag to fit right into my handle bar basket so I could take it into the store with me, fill it up with my shopping, and be sure that it will fit into my handle bar basket (original post and original pattern here / Ad free PDF of Shop 'n' Ride pattern here). You can adjust the sizing up and down to fit your own basket dimensions pretty easily. And it turns out this bag is also great for being a lunch tote.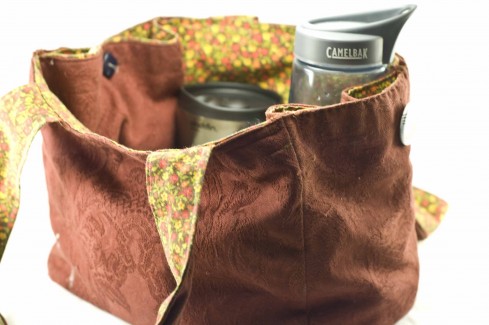 Last week I told you about my search for a new lunch box. It ended with Jason bring up the point: "What's wrong with our tupperware?" Indeed! So I took a look around with *cough* what's on hand before I ran to the store to purchase new fancy lunch box supplies. It turns out that when I really hunted around, dug things from the freezer, and made a point to wash it out everyday, we have plenty.
I was going to just get the lunch bag, but then realized what I usually do, "Hey, I can make that." So that was a plan. A lunch tote that would be the perfect size just for me and my food dishes.
A funny thing happened in the last week though. While master minding my new glorious lunch tote, I started using my Shop n' Ride bag to hold my dishes. And my coffee mug. And my water bottle. It's the perfect size!
So while perfect for riding around town with, it's also turned out to be the perfect bag to bring my lunch in.
Support the Craft Leftovers pattern archive restoration project by purchasing the PDF by clicking here.