I'm currently out of detergent. My options are, go spend $15 on a thing of it at Sam's or make my own with this junk I have laying around for free. (I did have to buy the bucket because I used the old one for other things long ago.) Hmm, I'll go with free. Plus it only takes about 10 minutes of hands on time to make! Easy choice!
It's been years now since I made my first (and last) batch of laundry detergent. Honestly, I'm a little disappointed in myself. I feel like I've actually wasted $100+ on detergent from Sam's Club because the same amount of detergent would have cost me like $20 to make. Sigh. I got lazy. Meh. I got overwhelmed.
I'm start to stretch my DIY wings again and I'm excited to make batch #2 and share it with you. I'm also happy to have some better pictures to make the process look a little more sexy than the last time. Well, would you look at that, my photo skills have improved over the last two years. Go me.
I want to thank Trent of the Simple Dollar for blowing my mind with this simple process over two years ago. I'm still in awe of it's simple money saving power.
DIY Laundry Detergent
the best way to spend 10 minutes of your month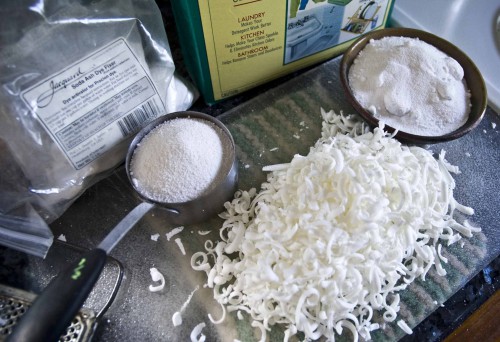 What you need:
1/2 Cup Borax (100 Mule Team)
1/2 Cup Washing Soda
1 Bar of Dove Soap
32 Cups water
2 gallon bucket
Large sauce pan
Big Spoon or wisk
Here's how to:
Grate the bar of soap into your sauce pan. Add 6 cups hot water and bring to a simmer on the stove over a medium high heat. Stir occasionally until the soap is completely melted.

Add Borax and soda ash to soap mixture and stir until dissolved – remove from heat.
Pour 4 cups hot water into the bucket, add the soap mixture, and stir well.
Add 22 cups hot water to the mixture (1 gallon + 6 cups is what the recipe says officially)
Stir well, cover, and let sit for about 24 hours. If you are adding essential oils to you, you mix those in once it's cooled down.
I used a hand blender (like the old fashion crank kind) to blend up the lot of it. It seems to be staying separated well enough to put into an old detergent jug or you can use straight from the bucket. Either way will work well.
Use 1/2 cup per load.
Happy Laundry Cleaning to all of you, I'm off to do a load :)
Kristin Roach