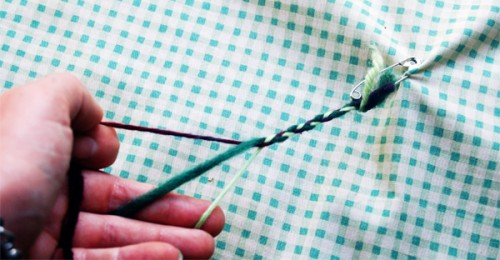 I can easily figure out ways to use a half a skein of this and a half a skein of that, but it's those last 2 yards that leave me stumped. Today I'm going to show you how by braiding yarn, you can refresh the life of your yarn scraps! And of course some fun project ideas to use those braided pieces.
Three Strand Simple Braiding: Knot 3 lengths of yarn together and safety pin to a cushion. And braid away. Knot the other end and your yarn is now ready for some great projects.
While written for fabric scraps, this project could be done with yarn easily. Make your own Scrap Necklace. I love this project, it's so beautiful.
You can use it as cording for upholstery projects. Check out this great tutorial here on CRAFT on Upholstery 101. I will definitely be using this when I re-cover my lounge chair for the Apartment ReDress Project.
If you have a loom, you can check out Whimsies in Wool for a great tutorial on weaving a rag rug in CRAFT: Vol 8.
You can also make a braided rug with the stitching method shown on Sunshine's Creations, I originally saw a link to this here on CRAFT. If you choose this project, use more strands together for each braided piece.
If you use more strands together, braiding can make great handles for your knit or crochet bag project. The Via Diagonale knit bag from knitty.com would be perfect with a braided handle.
Or with just 3 strands for the braid, you can use it instead of an i-cord. Use them for tails cute, little, stuffed animals tails, to hang an ornament, as loop fasteners instead of button holes. In the the cute little Itty Bitty crochet bag pictured above braided yarn is used for a drawstring. That was a guest post by Mary Grace McNamara of Hooked on Needles.
What's your favorite way to use up the last yard or two of yarn?
Let me know and until then… 
Kristin