They want out.
He wants in so he can do to them what he's doing to this bucket. Chewing the crap out of it.
Since we got Bob in March we've been doing this shuffling act of letting him out, putting him in, letting the chicken out, putting them up, letting bob out. About 3-4 times a day.
I put up a chicken fence awhile ago, but not only was it not keeping him out (he would either knock it down or just hurdle it), they also would jump or just squeeze out from under it.
After a few episodes of Bob chasing the chickens and me chasing Bob, I knew this "solution" wasn't a solution at all and I really needed to put up a more sturdy, taller structure.
Read the full story and see the how to after the jump…
I'm not sure if I was being lazy or thrifty, but I really didn't want to spend any money on this project. I dug around in my garage and found a pile of wood that I had been meaning to build into I'm not sure what. I think my lumber stash is about as big as my yarn stash lately. It was rewarding using up so much of it in one go!
I spent a morning pounding 2×2″ into the ground, topping it off by 1×2″ and stretching the 4′ chicken wire around it. Nice and easy, pretty straight forward though a little crooked, but what about a gate?
I've never built a gate before, but I knew that it had to be sturdy enough to deal with Bob jumping on it, putting his paws on it, and generally testing its and his limits. I decided to go with the sturdiest structure I knew, pretty much stretcher bars for a canvas, haha. It's funny how often I turn to that basic shape – a rectangle with corner braces, and in this case, a cross brace.
Here's how I built the gate:
Materials
2 – 3″ hinges
1 – latch + a carabiniere
chicken wire
random scrap wood from the garage
wood glue
brads or screws
staples
Tools
miter saw
staple gun
brad gun (or a corner brace + hammer and nails)
First I measured out the width of the "doorway" at it's narrowest point since it's a little cockeyed. I cut the first width of wood and double checked it against the space for the gate. It fit just fine, so I used it to cut a second piece of the same length (42″).
Second I measured out the height of the shorter post – so cockeyed, oh my gosh am I glad we hired someone to build our fence, it would have looked ridiculous! And cut two more piece with 45degree cuts at each end.
Then I pulled some 1×2″ scraps out of my scrap wood bin and cut them down to about 10″ each with 45degree ends.
Using wood glue and the brad gun I connected it up at each corner and then inserted the corner braces.
I love our air compressor so much, it was the best Christmas present ever. I plan on pretty much repeating this same project, except to make window screens for the house. Anyway….
Then I grabbed a 1×3″, cut that down to the width, and glued and nailed that in too as a cross brace.
I was smart for once and screwed the hinges to the gate before screwing it to the post. And then repeated the process for the latch. I decided to latch it in the middle vs the top so Bob couldn't squeeze through. I want to get a second latch next time I head over to the hardware store. Which is looking like this weekend because I'm building a new piece for my display for Maker Faire.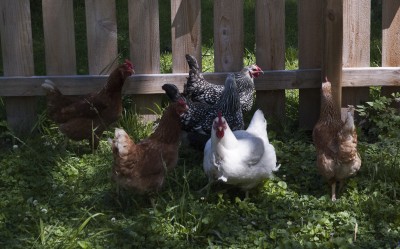 Now they are safely on their respective sides of the fence.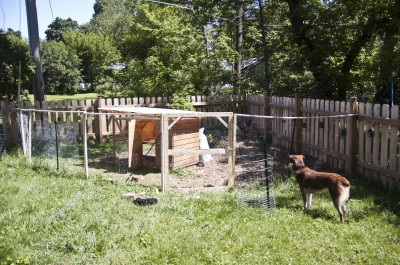 It was so wonderfully sunny out I couldn't help but blow out my picture. Ahh, peace in the backyard now. It's really nice being able to go out there with Bob and have the chickens not cooped up and squaking at the unfairness of the world.
And with the completion of the fence I was able to do other fun things like mow the lawn and finish my potato tower of power.
Have a good weekend!
Kristin Roach