We were up at 6am Saturday morning shuffling around the house, getting coffee and stocking the citizens up on pets and food for the day. We were doing our first Market Day Iowa in 3 years. It's funny, to remember that I thought "what issue was I selling?" Oh yeah, Volume 1!
So 3 years and 3 volumes of zines later, Market Day and I have both grown!

Read the whole recap after the jump
Craft Leftovers
Less equals more – Jason was the one that pointed this out. He was like "oh my gosh, do you remember that first time you did Market Day? We hauled so much!" I had kits and vintage stuff, zines, and I'm not even sure what.
Zine rack – I made this for Renagade and it's worked out really well – it's pretty much like a little magazine rack to put my zines (and book) in!
The zine – while the price is actually the same, it's totally revamped. More comic book meets craft magazine than it's previous incarnations. It's larger in size, more pages, printed on sustainably forested paper, and with soy inks. Oh and the cover is color now!
Square – Hello, this is a biggie. You know how hard it is to sell subscriptions and box sets when you can only take cash? Square has done much to make fairs worth while.
Subscriptions – while still the same, because of changed in my layout, printer, and paper choices, I've been able to drop the price significantly. So subscriptions are just $36 for six issues and $54 for 12 issues, which includes shipping and handling.
Mend it Better – it's strange to think that 3 years ago I wasn't even dreaming of publishing a book. I have to say, it was a load of fun telling people "This is my first book, it just came out in February?"
700+ posts and 27 zines later – really. wow. I ballparked it to around that. Over the last 3 years I've written 700 posts and published 27+ zines for Craft Leftovers.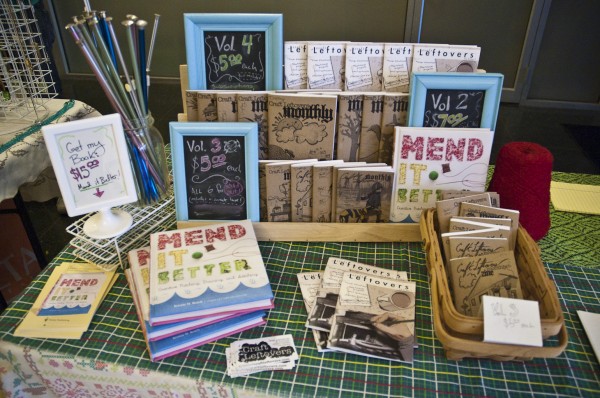 Market Day Iowa
New Venue! the first thing of note, they've been able to secure the Kirkwood Lobby and adjoining Social Club Ballroom for the fair. It's literally right in the farmer's market – which is HUGE. Before they on Market Street, a few block from the farmer's market.
Foot Traffic! Those few blocks have made a big difference because now instead of driving to the venue, or riding your bike, you can wander in directly from the farmer's market.
Curated vendors – while they curated before, now they are getting enough applicants that they can really pick and choose. It's a quality show.
Curated vendor locations – walking around you can really tell they put a lot of thought into placement of vendors, like who's next to who and the flow of traffic. Plus they made sure similar items were spaced out. Before, I believe you got to pick your own spot on a first come first serve basis.
The name is out there – they did a great job publicizing the fair before, but now, it has that familiarity where everyone who goes to the farmer's market regularly, pretty much goes to Market Day regularly.
Did I mention traffic? Today we set a record with over 2000 people walking through the door in just 5 hours, numbers that have previously only been seen at the Black Friday Market Day! Awesome! I think three years ago it was in the hundreds.
Organization – just like anything, you find better ways to do things the more you do it. They have been great at compiling info for the vendors, their website has a ton of great info. They've also brought on more admin help, there are three key women making this event possible now. And they set out booth assignment, parking info, drop off info, and all the things you need as a vendor to make an event a success in a timely matter.
The booth fee – it's gone up a little bit to help pay the bills, but I feel like it's well worth it given the traffic they bring, the professionalism, and most everyone I talked to said they had at a minimum broken even, while others made out like bandits.
We (Jason and I) learned a ton doing Market Day this weekend. Partly about booth set ups, but also about selling in general. Here are some of the things we are changing before heading out to San Francisco for the Maker Faire Bizarre Bazaar:
One thing is that I'm going to get a dolly for my next show.
Buying some rubbermaids that will replace my cardboard boxes.
I'm building a folding upright wall with shelves (I'll post about this when I make it later this week) that stores flat in the trunk and is light weight.
For those of you who are selling at fairs, this was a big one – work on your closing pitch! Jason pointed out that while I was doing great greeting people and telling them about the book and zines, I wasn't making a good closing. Still working on that, but I never even thought of that of that before! Something like, "I do take credit cards, debit, and of course cash!"
When I have a boothmate, particularly Jason, people are more likely to commit to buying. I've talked to some other vendors about this too and they said the same thing. Having a guy in your booth somehow mentally pressures people into making a purchase. Like Jason will think they are a jerk for not buying his wife's hard work. To which he said "yes, because I will hulk smash them into buying your book". Haha. No seriously, he will.
2 fer's – we found that if people were buying the book ($15) and I said something like "You want me to add in the zine for $X" I sold a zine about 9 out of 10 times when I wouldn't have  otherwise. Which is why I was okay for offering bundled at such a discount.
When people purchase something, or are interested in purchasing but just not today, asking them to sign up for the mailing list. When I did it that way I got about 10x the amount of sign up if I don't mention it.
And I'm making better signage.
It's so funny, I spend all this time making the zines, putting together my display, going to an event, and then I forget to make signs for it. I like the chalk boards a whole lot, but I think it would be good to have a price list and a printed sign saying something like "Subscriptions Available!" and then maybe even a little thing talking about the zine. I found the best way to describe it to people is "Comic book meets craft magazine". It's about half story telling with illustrations and half story telling with tutorials.
And speaking of the zine, here's a little teaser photo for one of the projects I just finished up for the issue that will be out on Monday:
Okay, so it's actually just Molly inspecting what I'm making. Thanks to her management, it turned out awesome. I've had so much fun working on this issue and I know you are going to just love it!
Happy Crafting!
Kristin Roach