Last weekend I spent Saturday sewing with my friend Judy, we made all sorts of fleecy things and my favorite were these super quick to make fleece mittens. She gave me permission to share this classic mitten pattern with all of you. I made the small size for myself, but it's easy to scale the pattern up and down – add a 1/4″ on all sides for a medium and a 1/2″ for a large mitten (Jason's size). Jason liked mine so much that he requested a pair of his own. I was of course happy to comply since whipping a pair together takes less than a half hour.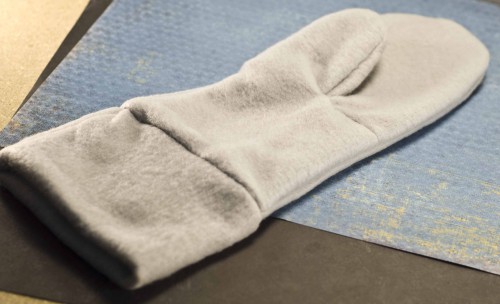 ::Materials::
1 – fleece, cut 22 x 20″
Sewing machine
::Direction::
Step One: Cut all the pieces from the templates, two of each, on folded fabric.
Step Two: Sew the bottom and top of the inside of the mitten right sides together.
Step Three: Sew the back of the mitten and the inside together, turn right sides out.
Step Four: Fold the cuff in half and sew the short side together. Fold in half lengthwise and fit over the mitten body with the raw edges together. Sew together. Turn right sides out. Top stitch along the seam to finish it.
Repeat for the second mitten.
Happy crafting!
Kristin