Free Pattern | Reusable Grocery Bag Made for your Bike Basket
Fantasizing about riding my bike to the grocery store is a lovely image. A bit of a fresh air, get my legs moving, a handle bar basket full of …. too much? What. Wait, that wasn't the idea I had in mind.
I made this tote bag to fit right into my handle bar basket so I could take it into the store with me, fill it up with my shopping, and be sure that it will fit into my handle bar basket (original post and original pattern here / Ad free PDF of Shop 'n' Ride pattern here). You can adjust the sizing up and down to fit your own basket dimensions pretty easily. And it turns out this bag is also great for being a lunch tote.
A few bike specific things about it's design:
Sized to fit a wire handle bar basket that is rectangular in shape (not a wicker basket style).
The pockets are on the inside with buttons so your phone and wallet won't go flying if you hit a pot hole.
Flat bottom so it doesn't flop over in the wire basket.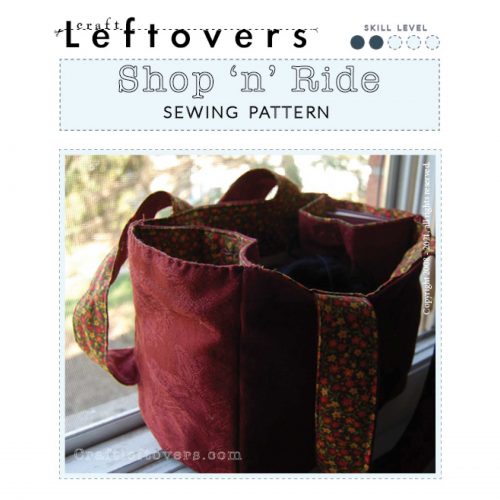 ---
What's the Craft Leftovers Pattern Archive Restoration Project?
Well, long story short: Back in 2013 shortly after my book was released and when I was very pregnancy with Lucy, Craft Leftovers was hacked and my server was wiped — which included my back ups. 7 years of work… gone Fast forward to 2019 and Jason being awesome. He found a very old hard drive that had everything we needed and he was able to reboot it. But you can't reboot over 7 years of content without hiccups. The main one being any pattern with a PDF was lost.
This summer I hired a studio assistant (visual arts student from Iowa State University) and they are helping me slog through, find, edit, reformat and rerelease the over 100 free patterns that are in the archive. Read the long story and how I found my way back to craft here.
Sign up for the Craft Leftovers mailing list to get a monthly update of new content and re-releases. You can also follow me on Instagram to check out the crafty projects I'm crafting.
And of course, if you make something with one of my patterns, just tag it (#craftleftovers). I love seeing what you've made with your unique leftovers!
Until Next Time!
Kristin M Roach