Usually, the day after a holiday it dawns on me, "Hey, I should post about all those neat projects I've come across lately." Well, not this time. Ha! I got you this time 4th of July!
Check out these sweet projects I'm excitedly whipping together for the first 4th of July in our new home. (I'll post about that next week and you will just have to keep guessing until then.)
Picnic Bowl Cover Strap
Out of all of them, this is my favorite. I can't even remember where I first saw it, but I tweeted it immediately. Maya*Made shows us how to ditch the rubberband and make this wonderful reusable picnic bowl cover strap. Click here for her well documented tutorial.
The fact that she makes it from the button band of an old button up shirt is even better! You could easily alter the pattern to use any strip of fabric you have laying around. Ah fabric strips, the theme of the July issue of Craft Leftovers Monthly, I will find uses for all of you some day!
Pinwheels
These charming little beauties are fast, fun, and cheap to make. They add a bit of fun to any event and double as "flowers" if you need of a centerpiece.  Make them up in blues and reds, call yourself a patriot, and show off your grandma's potato salad recipe–the best in the world of course.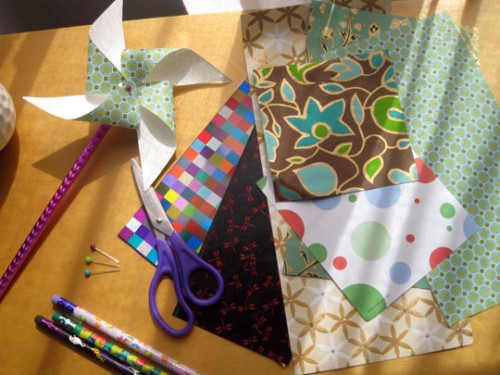 I liked ohdeedoh's tutorial best. Learn how to make some pinwheels by clicking here.
38 fourth of July Crafts
Of course when I googled "4th of July" and "craft" Martha Stewart was all over it. And I suppose rightly so since she and her team came up with 38 craft projects to set the mood and celebrate.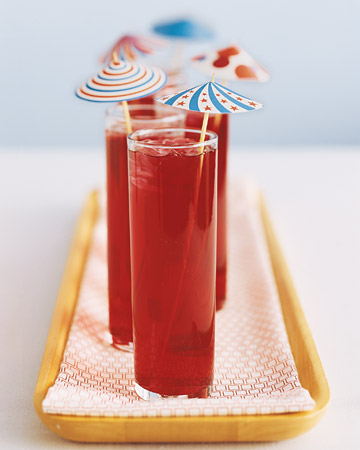 I really liked the drink umbrellas and these fun decorations. You can print them on the opposite side of misprints too. I'm always waging a war against a pile of things I printed wrong.
And of course I enjoy this nice little solution for taking your own silverware  and napkins to the potluck. I like the stripes and light blue checks because you could use those year round. I think I have some fabric very similar to that in red I can use.
So those are the 4 patriotic crafts I'll be whipping up this week for the weekend. What's on your list? What have you already made? Leave a comment with links!
Happy crafting!
Kristin