I can't recommend Lisa's A Bag for All Reasons
enough. With great step-by-step instructions and clear photos, the author takes you through everything you need to know to complete many bag types.


The first section of the book focuses on the tools, materials, and skills you'll need to diy the bag of your dreams.
The projects are inspiring and cover just about every bag design you desire.
And I desire them all, either for myself — the pannier bicycle bags, the geek-chic iPad case, the compact groceries tote, the terrific trifold wallet, and the too cool for school satchel — or for friends — the fasionista baby bag, the train style variety case, and the toddler tote.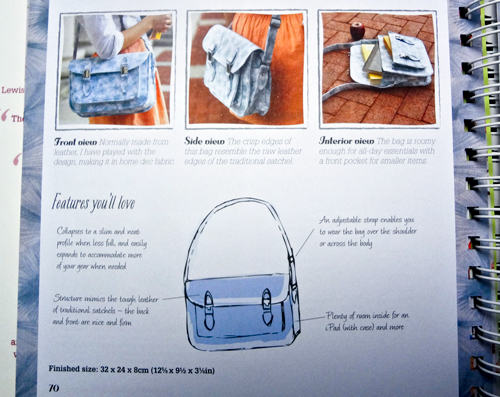 I really like the way she starts each project with multiple views of the finished project and this little "Features you'll love" drawing.
Bags can be pretty intimidating with all the buckles, straps, seams, edging, and zippers. Happily Lisa makes the whole process straight forward and easy to approach.
Though I have to admit I'm still really intimidated by this diaper bag a friend of mine wants me to make for her.
A Bag for All Reasons
is the compilation of years of experience writing about and making beautiful bags! I'm so glad to have this book in my craft reference library!
Until Next Time!
Kristin M. Roach