I was so excited when the package containing Hand Printing from Nature
 showed up unexpectedly from Storey. The note simply read, "Kristin, I think you'll love this book, enjoy!" I suppose that's one of the many reasons I love working with Storey Publishing, they really get to know their authors. Anyway,  I realize now I've waited WAY too long to crack it open.
I'm so looking forward to getting my studio cleaned up later today so I can try out some of these beautifully crafted ideas.
Giveaway details at the end of the post!
The full title with the subtitle tells a clear story of the scope of the book: Hand Printing from Nature: Create Unique Prints for Fabric, Paper, and Other Surfaces Using Natural and Found Materials
by Laura Bethmann. I'm always astounded by the amount of useful information Storey books contain while retaining their clean and easy-to-follow layout. That is something I'm always struggling with while designing my zine.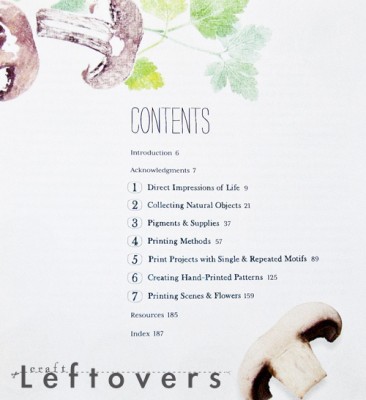 Throughout the book, Laura is articulate, thoughtful, and entertaining! I've really enjoyed reading through it over the last week. You can really feel her passion for nature printing when she talks about how "the artistry of nature's designs is revealed."
Having tried my hand at printing with nature, I was impressed with the clean impressions she is able to make with anything from a kitchen-cut cabbage to garden-collected sage leaves.
The book contains everything you'll need to start making your own prints and beyond. The author has created a large variety of projects that introduce readers to all the ways printing with nature can fill your life with the "branching, radiating, turbulence, and spiraling" patterns encompassed within their forms.
While printing with nature could be considered something easily mastered, this book gives you the fundamentals and all the beyond the basic skills to really hone your skills. Plus I've never found it exactly easy and really enjoyed all the pro-tips.
The Giveaway!
Happily, Storey has offered up an extra copy of the book (I was going to giveaway my own, but after reading it have decided there's no way I'm letting it out of my possession!) to giveaway to one lucky US reader.
To enter the giveaway:
Sign up for Craft Leftovers eNews
Leave a comment here on this post letting me know you're signed up
Complete Steps 1 & 2 by Midnight on Thursday, June 14th
Happy Crafting!
Kristin M Roach