Mending is that bridge between creative worlds. Whether a hobbiest or professional, we all have something to share, contribute, and a sock with a hole. For those of us that are a little more quiet, it gives us a task to keep attentive to and help with any social anxiety. For those of us a little more outgoing, it gives a way to share our skills and stories with others.
If you are around Ames, join us at the Octagon Center for the Arts for the second Place to Mend.
A Place to Mend

Thursday, February 23, 2023

5:30 – 8pm

Octagon Center for the Arts

Third floor library/meeting room

Click here to Register
Pre-registration is helpful (last time we had to do three round of pulling out extra chairs! A good problem). Everyone is welcome and it's free! Just tip if Beth or I end up helping you a ton with your mending project. The suggested donation for mending help is $5.
What Inspired this Event?
My friend and fellow creative person Beth W. (education director at the Octagon Center for the Arts) invited me to help host a mending meet up at the art center last month. We decided to keep it simple and see what happened. Because even if it was just her and I hanging out and mending together we knew it was going to be a good time.
Here's what happened. It wasn't just us.
We had over a dozen folks make their way out into the cold Iowa Winter and stitch with us. Share stories and projects and life lessons. I taught things. I learned things. Folks were from all walks of life. Artists and researchers. Weavers and bakers. Scientists and scientists in training. It was awesome.
We aren't sure what the spring and summer will look like, so sign up for my mailing list to get updates when this and other events like it are happening.
Speaking of which…
---
Also this week: Visit the Neal Smith National Wildlife Refuge with me!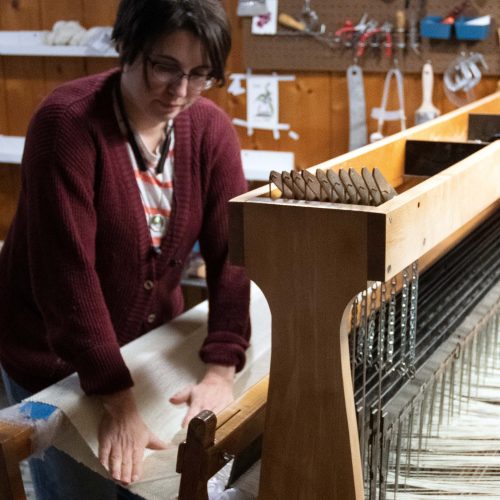 For all my Iowans, this weekend is the closing day of the Junk Mail Migration exhibit at the Neal Smith Wildlife Refuge. And we have a great treat planned for you.
10am – 10:40am Presentation + Q&A Learn about how this project came into being, what inspired it, and what I've learned along the way. No registration required.
11am – 12:30pm Tapestry Weaving Workshop Learn the basics of tapestry weaving with my favorite type of loom… the Cardboard loom! Ages 10+. Kids must be accompanied by an adult. This event is free. Space is limited so pre-registration is REQUIRED. Email or Call: nancy_corona@fws.gov or 515.994.2300.
---
Until Next Time…
Kristin M Roach