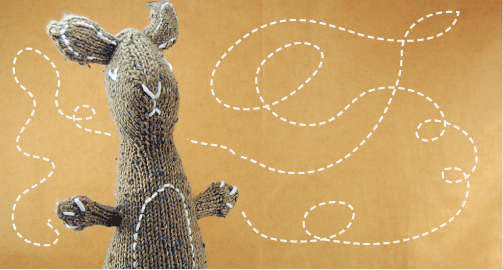 This sweet little bunny was first published in the spring of 2008. It's a unique construction because the base of the little hopper is knit like a heel flap. The first time I made him, I used some vintage acrylic and the last few times I used leftover cotton. You can use just about any worsted weight yarn for this project. I've even seen people use faux fur with some pretty fun results.
::Materials::
2oz worsted weight yarn (I used some gifted red heart)
10-20 yrds of CC yarn
Size 4 dpn, set of fve
Yarn needle
2 oz stufing, I used some polyfll.
::Gauge::
5 sts per inch
::Techniques Used::
k: knit
p: purl
st: stitch
ea: each
rnd: round
k2tog: knit two together (decrease)
ssk: slip slip knit (decrease)
m1: make one
kfb: knit front back
::Notes::
Part of the bunny is worked like the heel of a sock with a heel flap, so sock knitting is a good thing to have figured out before trying this pattern.
There are a lot of parts of the pattern that refer to needles 1 – 4, it's important to use a set of 5 double pointed needles.
Happy knitting!
Kristin
++++++++++++++++++++++++++++++++++++++++++++++++++++
[ad#Adsense-post]