For the next addition of the Pattern Archive Restoration project, I present the Cherry Chirp Knitting Pattern! First published in February of 2008 and has been missing from the archive for quite some time. Welcome Back my little friend! Standing about 8 inches tall, 4 inches wide, and 8 inches long they are a quick knit and takes a mere 40gram of worsted weight cotton yarn + 15g in a contrasting color for beak, feet and eyes.
I've dug it up and put it all straight into the original post. But, if you'd like a tablet or printer friendly pdf version and to support this and other Craft Leftovers patterns finding their way back online… You can also support the Craft Leftovers pattern archive restoration project by purchasing the PDF in the KMR Shop OR on Ravelry.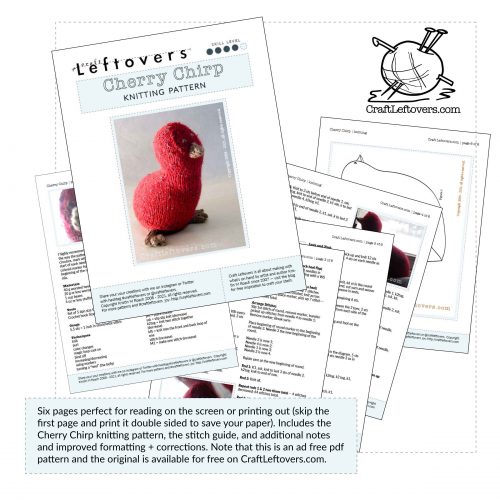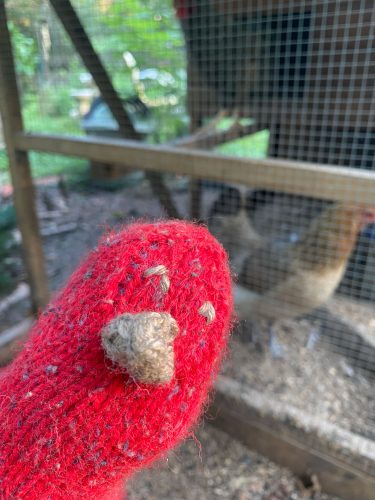 What's the Craft Leftovers Pattern Archive Restoration Project?
Well, long story short: Back in 2013 shortly after my book was released and when I was very pregnancy with Lucy, Craft Leftovers was hacked and my server was wiped — which included my back ups. 7 years of work… gone Fast forward to 2019 and Jason being awesome. He found a very old hard drive that had everything we needed and he was able to reboot it. But you can't reboot over 7 years of content without hiccups. The main one being any pattern with a PDF was lost.
This summer I hired a studio assistant (visual arts student from Iowa State University) and they are helping me slog through, find, edit, reformat and rerelease the over 100 free patterns that are in the archive.
Sign up for the Craft Leftovers mailing list to get a monthly update of new content and re-releases. You can also follow me on Instagram to check out the crafty projects I'm crafting.
And of course, if you make something with one of my patterns, just tag it (#craftleftovers). I love seeing what you've made with your unique leftovers!
Until Next Time!
Kristin M Roach