I'm still in love with this little box, but can't find it anywhere. Maybe it's time I make a new one. I brought two posts together to tell the whole story with a few edits for ease of reading. Originally published 09/07/2009.
This weekend I started the daunting task of digging through the remaining few shelves of stuff at my folks house. I am resolved to go through at least a few boxes every time I visit. This weekend I made it through 3 shelves of "stuff". You know how you move out of your folks for college, but in your new place (dorm or small apartment) there is never enough room to store all the stuff from your childhood? Then you finally graduate and get a "place of your own" and you will be there in a more permanent way. Time to clear the clutter from my parents' home. I don't want to be in my 40′s and still have a box of teenage angst under my teenage bed at my parents. Anyway, this weekend I started in the garage, which used to my studio when I lived there. I have one bookcase of boxes in there.
I was delighted to find not teenage angst paintings (yeah, there were some of those in there too), but these great sewing kits made by my Great-grandma Alida.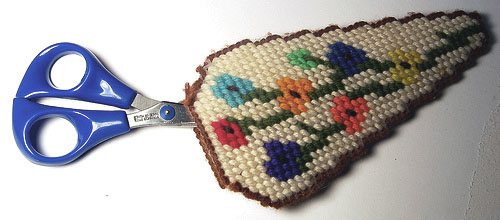 And this great scissor holder made by my grandma – I think this one (with the original scissors) was the one she kept in her side table by the couch where she did most of her reading, smoking, and crocheting.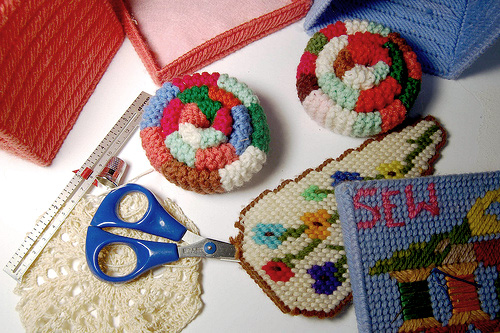 I just love the pin cushions, they are actually little bits of garter stitch folded over, and then tucked into each other to make the pin cushion. I think I want to write up the pattern for this, it's such a great way to use up little bits of leftover yarn. The scissor holders too.
I actually did go on to write it up into a pattern. I'll post that next I think. It's pretty stinking cute. 

UPDATE: The pattern was originally posted back in 2009 and you can read the original content and get the full pattern on the original post. Enjoy the newly formatted, updated, and ad-free printer/screen friendly PDF in the Craft Leftovers Shop.
Did you see that pretty crocheted piece in that last picture? My grandma was working on it and I found that in her "works in progress" bin when she passed away. I think I'm going to add it to my works in progress basket and finish it up.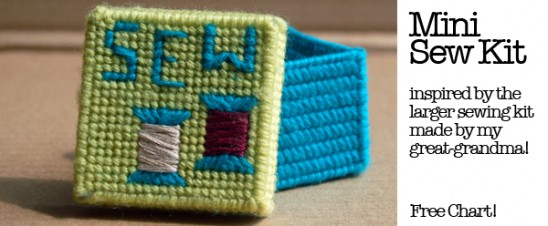 In tribute to my grandma and my great grandma, I've added a third generation to this plastic canvas collection. Something to put in my mending basket. You can make this mini sew box and pin cushion in just a few evenings of crafting.
Material List
10 Count plastic canvas:
Cut 4 – 20 X 15
Cut 4 – 21 X 4
Cut 1 – 20 X 20
Cut 1 – 21 X 21
Worsted Weight Yarn, 20 yards Color A
Worsted Weight Yarn, 10 yards Color B
1 yard embroidery floss color A
1 yard embroidery floss color B
Embroidery Needle
Directions
With color A, fill in cut pieces 1 and 3 using chart 1.
With color B, fill in cut pieces 2 using chart 1.
With color B, fill in cut piece 4 using chart 2 – chart worked in color A, fill with  color B.
Attach piece 3 (bottom) to pieces 1 (bottom sides) to create the bottom of the box.
Attach piece 4 (top) to 2 (top sides) to create the lid of the box.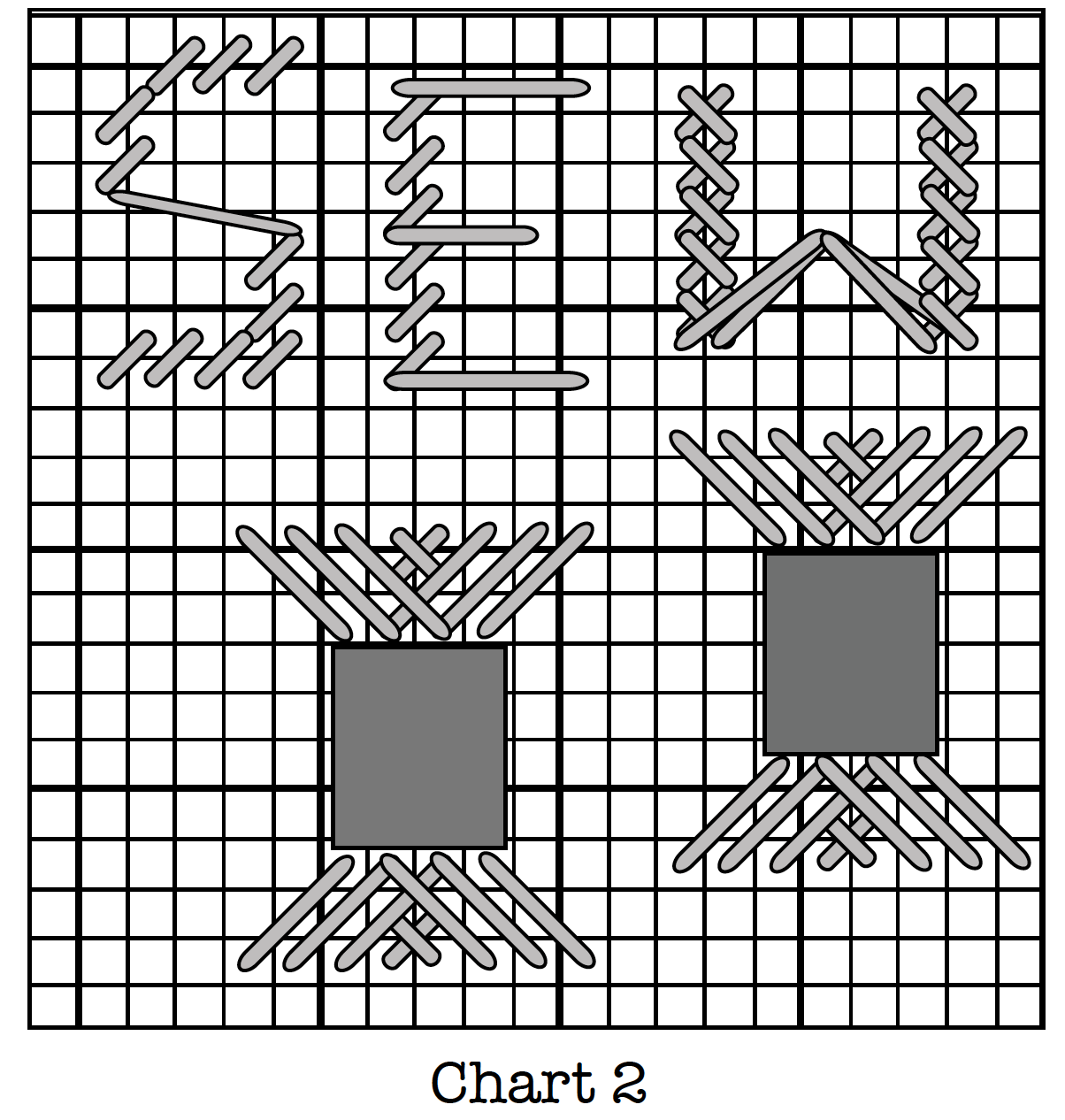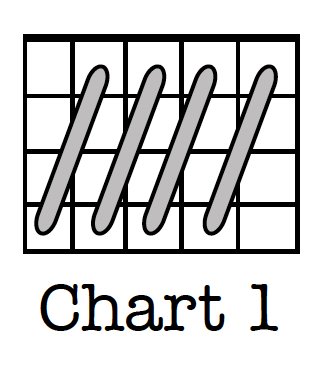 ---
Sign up for the Craft Leftovers mailing list to get a monthly update of new content and re-releases. You can also follow me on Instagram to check out the crafty projects I'm crafting. And of course, if you make something with one of my patterns, just tag it (#craftleftovers). I love seeing what you've made with your unique leftovers!
Until next time!
Kristin M Roach