My grandma was always into doll houses and remember looking at them and wishing I could have one all to myself to fill with little odds and ins. The Borrower's was one of my favorite book series when I was a kid.  I've always loved things on the small scale and as I get older, the more I have started to embrace it.
My last fall semester at NIU I made a short animated gif using the doll house my dad and I built as the setting. I am looking forward to playing around with the doll house more – this time in a series of stills. I really want to stock the rooms up – build all the furnishings, food, clothes, little bits. Everything. And that will take awhile. So I've started playing around with ways to make things on the small scale with the leftovers of this and that around the studio.
Taking inspiration from the book Making Miniatures I've decided that today I will try my hand at little baked goods. The french bread needs no explanation, but here is how I put together the little croissant.

Roll out a marble-sized piece of clay as thin and as close to a rectangle as you can. Then trim it so it's a rectangle that is about 1 1/2″ X 3/4″.
Make a cut from one corner to the other like in the picture.
Roll up from the long side to the short side. Gently pat the short end to the rolled clay. Then soften up all the edges.
I baked them for 30 minutes at 230F, but follow whatever instructions are on your polymer clay's packaging.
I made a whole ton of them and 8 came out pretty well so those were the ones I baked.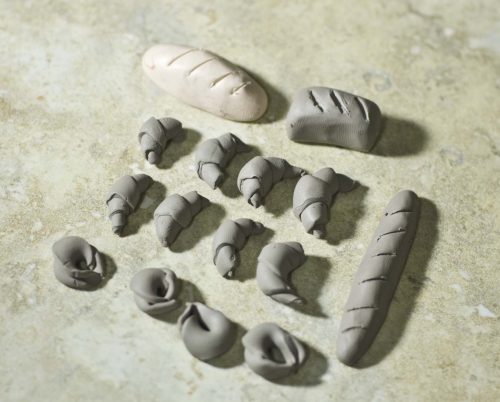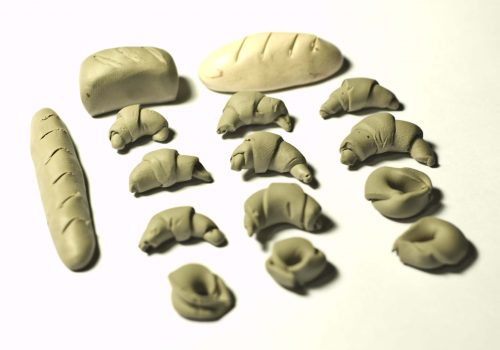 Once finished baking they will change color slightly (first picture unbaked, second picture is baked. But that's okay because we are going to paint them anyway.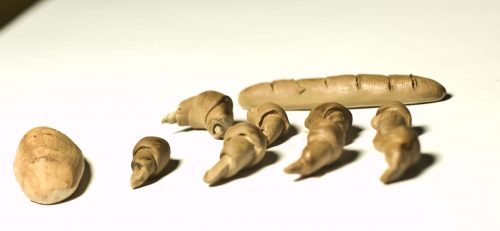 Mix up a little white acrylic paint with a touch of burnt umber or yellow ochre for the bottom, then a little more burnt umber and a touch of burnt sienna for the tops. I used my handy straight pin to hold the breads in place without smudging the heck out of it.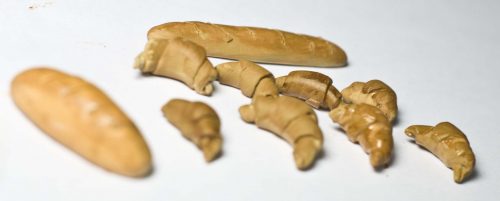 And if you are interested in making some miniature stills quickly, you can always go to Tilt Shift Maker and they will take any picture you have and convert it so it looks like miniatures.
May 2023 update: Just tested it and it still works! Check this out: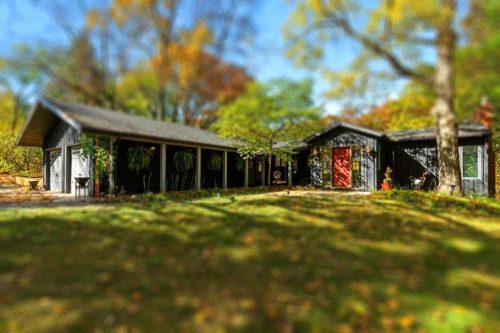 Keith Loutit has taken it to the next levels with this great animations made from Tilt Shift photos. Absolutely amazing, definitely watch at least one.
Thanks for stopping by!
Sign up for the Craft Leftovers enews list to see what's been recovered in the archive each month + new patterns and podcast transcripts sent right to your inbox.
And of course, if you make something inspired by a pattern or episode of the podcast, just tag it (#craftleftovers). I love seeing what you've made with your unique resources!
Until Next Time!
Kristin M Roach