The past two months have been an absolute whirlwind of that combo I'm always talking about: exhilarating and exhausting.
With the completion of the mural on Sunday night, it is now time to get caught up and get my life back in order.
I cleaned like a mad woman all morning and the apartment is now picked up, cleaned up, and put back to some sense of normalcy.
For the rest of the day I've been taking it easy while getting the laundry done and catching up on my blog reading. Wow, I have a missed out on a lot of neat stuff this last month. I had 1000+ posts queued up in my google reader feed. I have them in category folders, so I've decided to round up my favorites for you:
Saving Money/Getting Organized
For me saving money is governed (self destructed) by the same personality traits that getting organized our. It's all about impulse control, planning, and in the end, living a happier/simpler life.
Almost Frugal on Making Frugal Choices and The ABC's of Saving Money: D is for…
The Simple Dollar talks about Finding the Fire: Nine things I do to Make Each Day Great – I haven't found mine yet, but it's getting there. Somewhere in the mix of: exercise, read, cello, draw, write, cook good food, ride my bike.
The Simple Dollar on the Love and Hate of Work. I'm so happy to say I love my job. All of it. And I've hired out most everything I don't enjoy. Separating Your Goals from Other People. And Coupon Organizing Survey and How People do it – I really liked this article and it lead to this interesting survey on whether they are even worth it or not. I say yes :)
Find Your Own Value Balance at the Grocery Store on the Simple Dollar – really loved this as it tends to be the way I shop. Organic milk next to the generic baking soda says it all.
Get Uncluttered, I really enjoyed this Mind over Clutter article on Unclutterer
Hey, It's Free. I love this site and have gotten quite a few fun little freebies over the past few months. Like this yummy South Beach Snack Bar.
Creative Folk
These folks are the ones I look up to and fall somewhere between craft and art and they don't really make the distinction. They are creative and wonderful in just about everything they do, from cooking to crafting to homemaking and their blogs reflect that.
So Now I Know – The author of this blog is my childhood second mom. I look up to her in an idealistic way and love to visit and chat any time I'm in Indiana. She used to live two doors down and I think I spent just as much time at her house as I did my own. She posted about this yummy recipe for some Garden Day Mac n' Cheese, some Hand Sewing Skills (excited about this Saturday Sewing Series), and Rick Rack sewing explained. Love it!
do stuff! – Wow! She got a house! Hooray! I totally understand the doing adult things yet feeling like you are playing at being an adult too. And check out this great thrifty find conversion.
Knitty Gritty Thoughts – Loads of knitting, sewing, spinning and more. Really enjoyed this Hexagon Delight.
Kristy Hall has some great thoughts on enjoying your daily process: Enjoy Your Process.
I was so inspired by Tiny Red's Unbound and Connected Piece.
Art/Design Stuff
Really enjoyed this interview with Olivia Jeffries and her work.
Sometimes, okay a lot of times, I wish I could do What Katie Does, like go to this amazing show of UK Designers and Illustrators.
Can I have a swing in my home too? This looks like a fun seating idea.
Too much to resist….. Loaf-ers and a Cupcake Cannon!
Michael Nobbs posts about ten ways that we can be kinder to ourselves and in so doing increase our creative output and his great drawings zines are now a free to download ebook.
Really want to do something like this in Ames, shhhh, don't tell anyone, it might be in the middle of the night.
Keep your mouth shut, the world is small, that's for freaking sure. This highlights the main reasons why I assume whoever I'm complaining about can hear me, will hear me, will read, will find online, or find out from so and so. While this is talking about art specific, I would say it applies to all of life pretty well.
Being that we are most likely moving, I dug through Design Sponge with so much joy, feasting on every delicious home.
Craft Stuff
You may say, why separate this out from art/design? Well, Craftzine alone has like 1000+ posts, and I have about 30 blogs in this category alone. You are all just way to crafty and I love reading out it :)
Pretty much all of Make and Meaning is worth reading so I dug through each post and relished them all. Such amazing insight into the creative community.
Dabbling in Cookie Cake making, this is such a fun idea, I would love to do it for Jason and I's wedding next year. I wonder who of my friend's is crazy enough to help.
I love this Patchy Chair Pad on Posie Gets Cozy. I also really enjoy that she too has a craft cat doing inventory management for her. She's also been making these really sweet hangers from over at Dottie Angel – what a great way to use up some of those yarn ends.
House buying is definitely in the air because Lisa of U-handblog found a house too! Hooray and congratulations!
How About Orange reviews a fun chicken sewing patterns, rounds up 12 free bag patterns that are pretty great, and exposed me to this great idea of making little block people. No, I'm going going to run out and buy blocks this second, but wowzers do I want to, aren't these beautiful: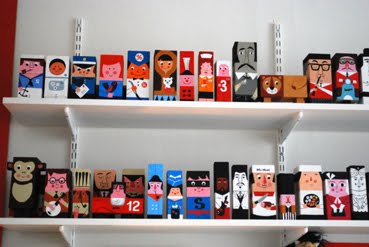 And that concludes part 1. I'll post part 2 tomorrow which will mark the catch up of all my blog reading. It's actually pretty fun to see all the new stuff going on. It's definitely a great way to get my creative juices flowing for making the jump back into the studio and book writing nice and easy.
What post caught your eye out there in bloggerdom this past month? What did I miss :)
Happy Crafting!
Kristin
ps – I didn't give Karen time to edit this, so all the typos are my own  :P
[ad#Adsense-post]