I had been hearing rumors of "sample sunday" for the last few months. Just a half hour away, a mini herb farm, Prairieland Herbs, hosted a monthly event where local makers and producers came and gave samples to those who came by.
And just up the road, another lovely local farm, a dairy farm called Picket Fence Creamery, did the same AND another little shop on the same road did the same. The idea was that by lining up their events on the same Sunday, people could make the drive and hit up all three at the same time. We are talking about the middle of no-where Iowa after all.
This month Jason and I finally took the drive out to Woodward, IA and explored this local phenomena. It was everything we had hoped for and more. Not only did we get to see cats, puppies, mini ponies, 2 mini farms, dairy cows about to give birth, eat tasty homemade ice cream from fresh milk, sample herbs and breads and soaps and elk snack sticks but two friends were participating as samplers!
Lynn from my herbalist apprenticeship was selling and sampling her Herbal Bliss herbal teas. The Kaotic Krafter (Kristina) who I know from Ames C.art was selling and sampling her wares that are made from recycled/thrifted things.
Both women are definitely embodying two of the things I love the most: self healing with herbs and making with things that might otherwise end up in the trash heap. It was a delight.
We both had a really good time. The mix of craft, herbs, food, and animals was perfect. Now's a good time to mention that Jason loves just about all animals, but LOVES cats, he was so adorably happy when this old calico let him pick her up.
And then we got to pet some really friendly minis, which was, well, also adorable.
Then it was time to head over to the Picket Fence Creamery. We asked about the cows we saw on the drive in and they said the ones in front of the house were the ones with calves were just about ready to give birth. They said that often times, the customers let them know when one is giving birth, and it goes something like this:
"So, I think one of your cows is about to give birth." … "Well, what did you see?" … "Feet!"… "Well, good, that means it's going okay then, we can leave her to it."
I think it's pretty amazing that their cows are so healthy that they can give birth naturally, about 90% of the time unassisted.They said Jenny was "reallly" close and could go into labor any minute. I also think it's awesome they name every one of their dairy cows.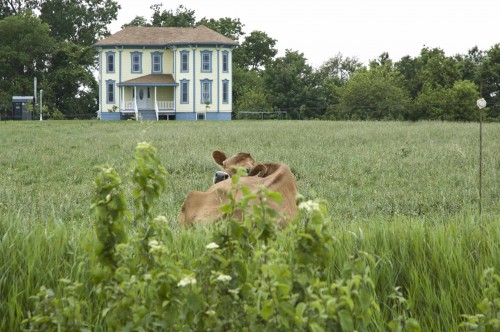 She spotted us and took a look, it was funny to see her turn her head that way.
We bought some fresh milk and locally grown popcorn. Did you know that since it's so fresh, it will actually stay good until the end of June? When I buy milk from the store, it usually only keeps for 7 days once open. I love Picket Fence milk, it just tastes good. And the ice cream is intoxicating! We had samples of Key Lime Pie homemade ice cream and breads and crackers and other tasty treats.
They have a little country store where they sell their milk products along with a whole host of locally produced goods–bison, elk, venison, grass fed beef, chicken, turkey, baked goods, cooking mixes, coffee, popcorn, and the like. Absolutely wonderful.
We took a fun detour on our trip to find a new couch and buy dog food for Jak. We made a nice loop around central Iowa. Even though we weren't gone that long, I was exhausted by the end. This cold/sinus whatever it is I have has really taken it out of me. I'm happily feeling better today finally. Hopefully this is the end of it.
Happy crafting and summer enjoyment!
Kristin Roach