It's amazing how resistant I can become to an idea out of sheer laziness. Once I finally get around to checking it out, I wonder how I got on without it in the first place. My sister has been preaching the wonders of allrecipes.com for years now. Literally years. When did I finally got around to looking up a recipe and then actually making said recipe? Just a few months ago.
What is Allrecipes.com? I know a lot of you have been using it for awhile and are thinking, "Duh, Kristin." For those of you who haven't, it's a website of user submitted and user rated recipes.
You can search by course, ingredient, or style of dish. Recipes are then rated by the people who try them. So you don't get just a database of recipes. You also get alternatives, mess ups, clarifications, and general comments. Everything is rated, so you can know at least someone else has tried it. It takes a lot of the unknown out of trying a new recipe. Sure you could mess it up, but more often than not, it will turn out just fine.
On top of the comments and ratings, there is also the search function. I love this! This is how it relates to the Thrift Kitchen. At the end of each week, the day before grocery day, there are always that random veggie or piece of something that was never used. Say all you have is a green paper and some rice. What in the world to make?
Click the "Ingredients" search and plug in what you have and what you don't want. You can enter in pepper, but exclude steak. (Pepper steak will come up and for this meal we don't have any on hand). Maybe we have rice and onion.
You know what comes up? 140 potential recipes, but what caught my eye was these stuffed peppers. I can't believe I didn't think of that to begin with. That's the beauty of it. You search and can create your meal in no time.
I do the same thing with the sale flier from the grocery store too. I just plug in what's on sale and make up my meal plan around that. Ingenious!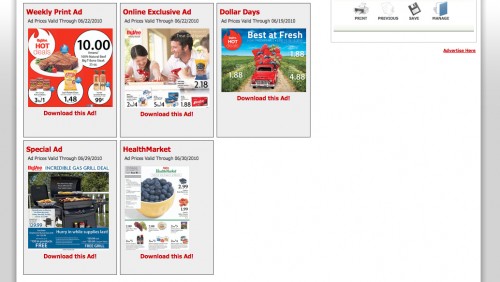 My sister always brings these great dishes to potlucks, family gatherings, and get togethers. Every time I ask, "Where did you get this recipe? It's delicious." She nicely replies, "Allrecipes.com." Maybe now I'll be saying the same thing.
Oh and a fun side note, if you ever want to dabble in French cooking, there is an allrecipes.fr. It's written all in french and contains all french dishes–delicious! A few friends and I are going to figure out a few of the recipes and give them a try. It should be a fun time.
Happy meal planning!
Kristin Roach
[ad#Adsense-post][ad#Flattr]