Ah, now is the best time to be thinking about planning your garden. I just got three seed catalogs in the last 2 weeks. Start making a plan for the garden. I took notes last year, but I also launched myself into a nice brainstorming session.
One of the things I realized from last year is that while the garden supplemented my summer groceries pretty well, we didn't have any left to put up for the winter. This year I'm adding two beds that are 4×4′ each which will hopefully allow us our first bumper crop.
Garden Books I'm Digging On
I got this book called Four-Season Harvest and this other called Root Cellaring: Natural Cold Storage of Fruits & Vegetables and I'm super excited about planning for a winter harvest using more cold frames and the like. So that's another thing I've taken into account with my garden plan. My heart is all a-flutter with "putting up" for the winter. Jason hasn't quite come around to the idea of me digging a hole in the backyard for potatoes and carrots, but he is more than happy to help me set something up in the basement.
Keeping it all Sorted Out
I use google docs to keep track of all my seeds, last year's plan and plant list, and then this year's plan and plant list.
I'm surprised how useful the seed spread sheet has been. It not only tells me what I have, but also what I had in the past, what's worked, what didn't work. What brands do best, and updated planting and harvesting times – I tweek it each time I get results. I figure I'll get it right by the time I'm 72, like my neighbor Bill who says he's no good at gardening, but has the most beautiful productive garden I've ever seen.
Also, keeping it on google docs allows me to check it on my phone. And that prevents me from impulse buying seeds that I already have – like I have 3 packs of cilantro, 4 of parsley, and 5 basil! Geesh.
Most Excited About…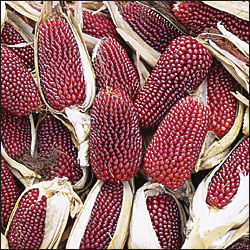 So what are the new seeds on the block I'm most excited about? Popcorn! Seriously, I'm planting 2 rows (I'd love to do three, but 2 works better in my garden) of strawberry popcorn. It makes these lovely little ears about 3 inches long that are red like a strawberry. From what I've read it's supposed to make the best popcorn I've ever tasted – and I've tasted a lot because I LOVE popcorn :) Planting the two rows should give me enough to last for a year. I hope. I'm sure I'll eat it all in 3 months.
How do you plan your garden? What new (or old) crop are you excited to have in the garden this year? Do you put things up for the winter?
Happy Garden Planning!
Kristin Roach