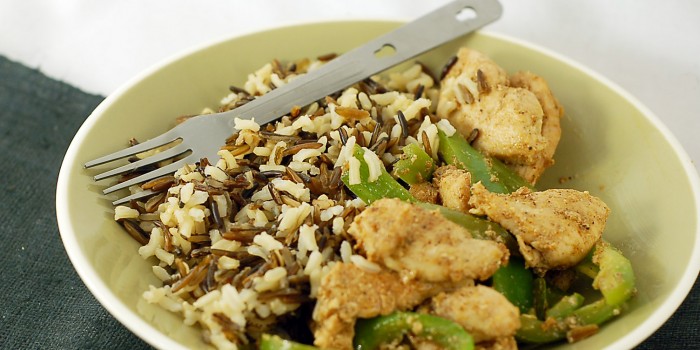 Last night we came home and realized we had absolutely nothing for dinner, or at least nothing planned. After a little bit of digging around I found two peppers from last week and some chicken in the back of the freezer (c. 2009). We've been having curried chicken quite a lot and I just wasn't feeling that with the green peppers. Hmm…hmmmmmmmm. I started with soy sauce and started adding spices. It was absolutely delicious! Jason gave it 2 thumbs up.
Ingredients:
1 lb. chicken – sliced in to 1/4″ x 2″ cubes
1 T. soy sauce
1 T. olive oil
1 T. ginger spread
1 t. chili powder
2 t. cinnamon
1 t. onion powder
4 drops liquid smoke
2 green peppers cut into long strips
Directions:
1. Heat the olive oil in a large skillet and toss in the chicken. Mix in the soy sauce and cook until the chicken starts to turn opaque–about 10 minutes.
2. Add the ginger spread to the chicken and stir until all the chicken is well coated. Stir in the chili powder, cinnamon, onion powder, and liquid smoke. Let simmer for another 7-10 minutes. Any liquid that has formed in the pan should simmer off completely.
3. Toss in the peppers and cook until they are warm.
Serve with wild rice or a nice tossed salad.
Happy cooking!
Kristin Roach
+++++++++++++++++++++++++++++++++++
Spend Thursdays (Tuesday this week) in the Thrift Kitchen with me. I learn about eating thrifty, delicious food and share what I learn along the way. The Thrift Kitchen series has 4 main goals: to keep me accountable to using all my groceries (stop wasting food), to eat healthier (lose weight), to eat out less (save money), and to try new things (keep it fun)!
+++++++++++++++++++++++++++++++++++
[ad#Adsense-post]