These small cozy mittens were made just for me. I wanted something warm and soft for long winter walks. And this clearance/discontinued yarn was just the thing. Using up just one skein for a small pair (my size), they are great for reducing my yarn pile. They work up so quick – just two hours of concentrated knitting. And I have one more skein so I think I'll knit another pair for a friend too!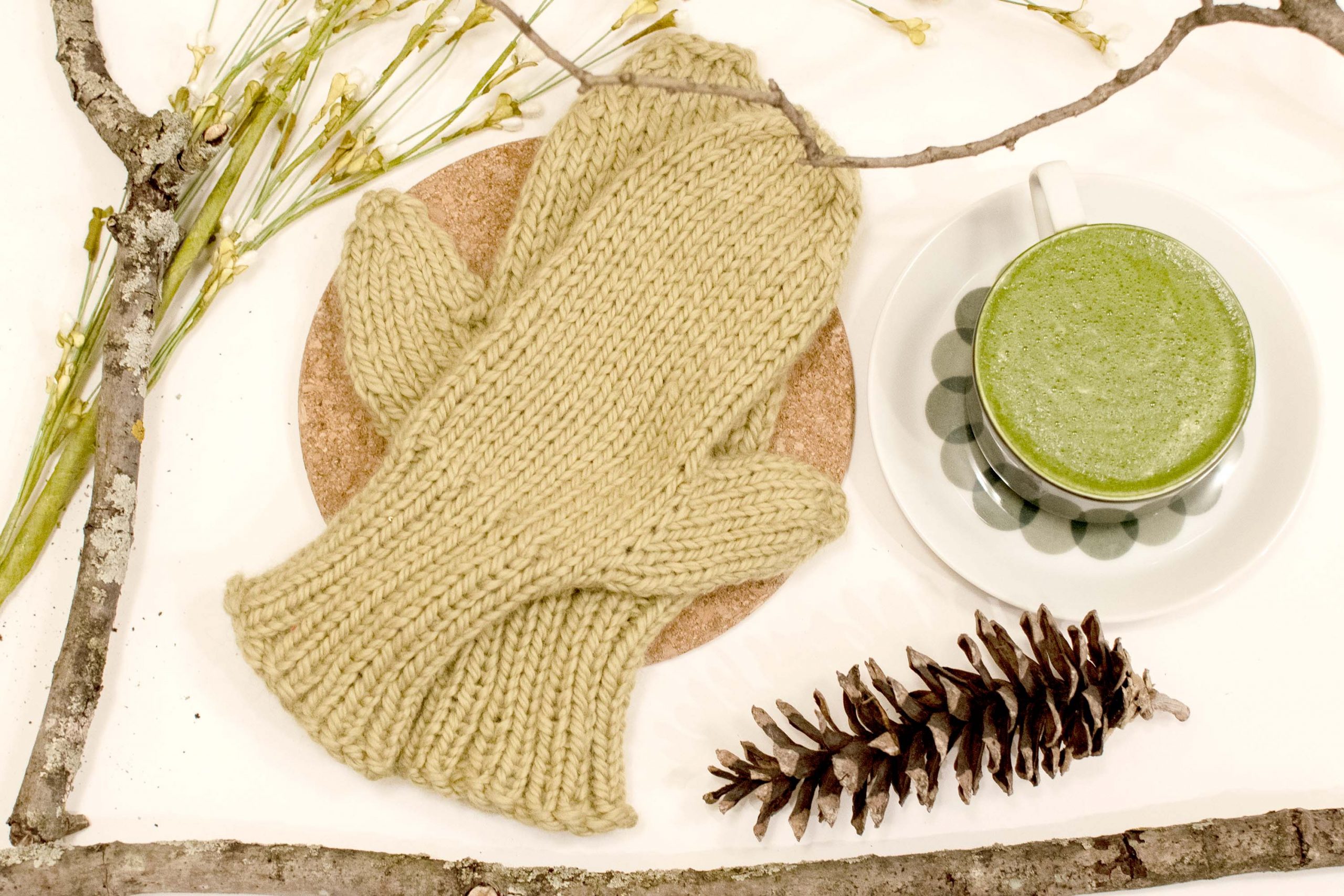 Materials
Chunky Baby Alpaca — 109 yards (100 meters)/3.53 ounces (100 grams)
Why no yarn brands? True to the Craft Leftovers name, this project was made using leftovers and my hope is to inspire you to use your leftover yarn too.I don't want you to get stuck on what specific yarn I used. Look to your stash and you'll find all kinds of treasures that are perfect, or near enough. Most my patterns are written so if it ends up bigger or smaller it's no big thing. And you could always try swatching :)
Tools
Size US10 Set of 5 Double Pointed Needles
Yarn needle for kitchener stitch and weaving in ends.
Techniques
stockinette stitch in the round
increasing and decreasing
using double pointed needles to knit in the round
kitchener stitch or three needle bind off
Abbreviations
K = knit
P = purl
DPN = double pointed needles
M1 = Pick up a stich to increase 1
PM = place marker
SLM = Slip Marker
k2tog = knit two together
ssk = slip slip knit the slipped sts together
sts = stitches
Gauge
15 sts per 4 inch in stockinette stitch
Size
Women's size small – 7″ hand circumference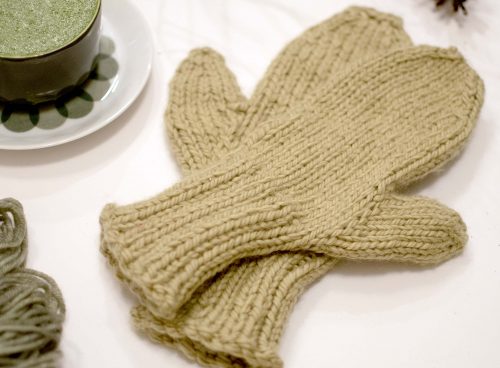 Directions
CO 24sts
Divide evenly on 4 dpn, join in the round making sure not to twist. Place marker between the 1st and 2nd stitches.
Rows 1-10: (K2, P1) repeat to end.
Row 11 – 12: Knit all.
Row 13 (Thumb Gusset): K12, PM, M1, PM, knit to end.
Row 14: Knit all 3 rows.
Row 15: K12, slm, M1, Knit to Marker, M1, slm, Knit to end.
Row 16: Knit all.
Rows 17 – 23: Repeat Rows 15 & 16 until there are 11 sts between the markers.
Row 24: Knit to Marker, slm, put stitches between markers on scrap yarn, remove 2nd marker, knit to end.
Main Body
Knit all in the round until the work measures to 1" below your longest finger. The decreases will be worked over 1 1/2".
Row 1: SSK, Knit to 2sts before Marker, k2tog, slm, ssk, to last 2 sts, k2tog.
Row 2: Knit all.
Repeat Rows 1 & 2 until 8 stitches remain.
Use kitchener sittch to bind off OR turn the whole mitten inside out and use a three needle bind off.
Thumb
Arrange the stitches on the scrap yarn evenly onto two needles. Join the yarn back in and knit to end, pick up 3-5 stitches along the opening of the main body, twist the stiches you pick up to help close any holes. Put these stitches onto a third needle.
Knit all on needle 1 and 2. If you picked up 5sts, decrease two stitches by working: k1, k2tog, k1, k2tog, k1. This will prevent excess fabric between your thumb and the main body of your hand.
Knit all in the round until the thumb measured about 1/4" shorter than your thumb.
K1, k2tog in the round all rows until 4 stitches remain.
Cut the yarn and thread through remaining stitches. Pull the yarn to cinch shut.
Use the yarn needle to weave in all ends.
Repeat all for a second mitten.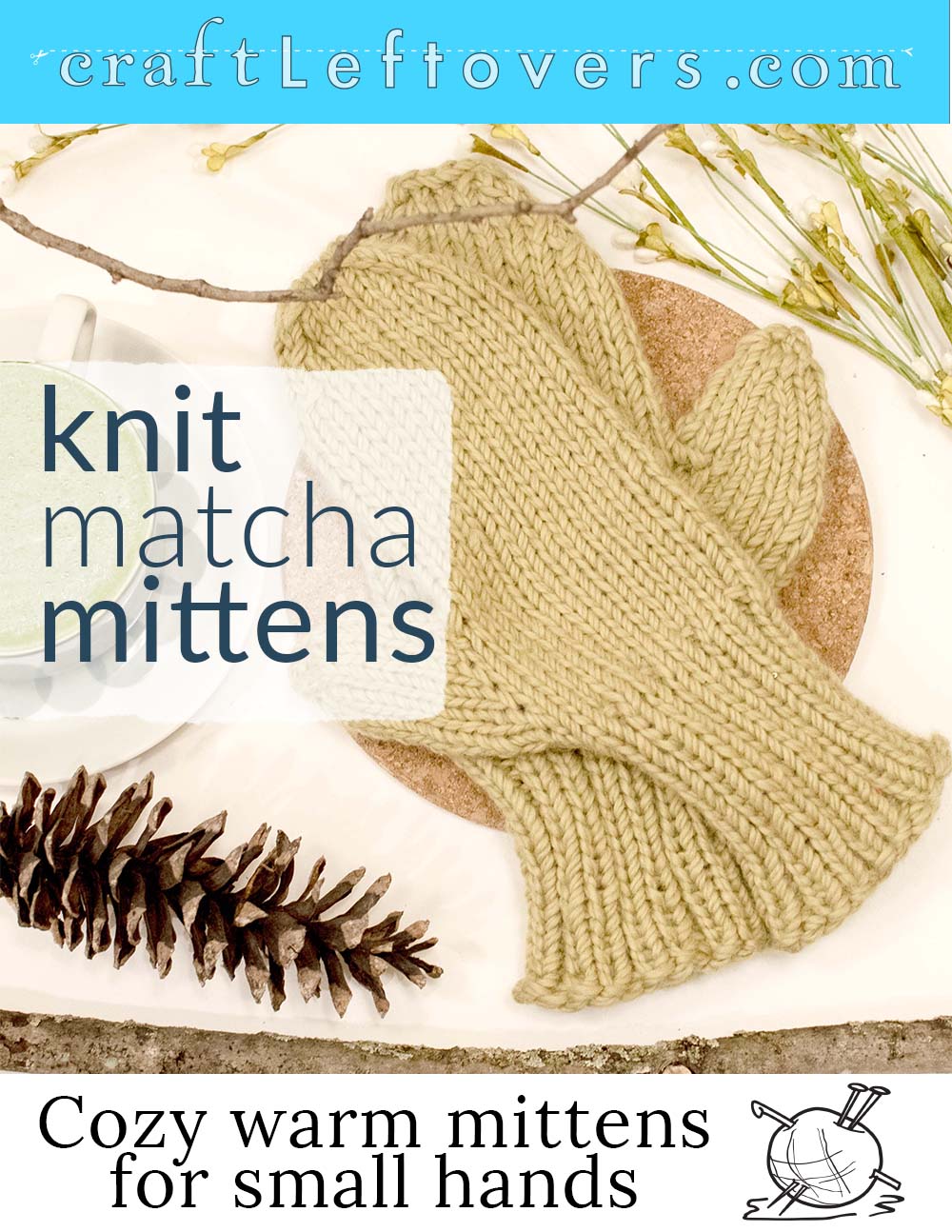 Sign up for the Craft Leftovers mailing list to get a monthly update of new content, podcast episodes, and re-releases. You can also follow me on Instagram to check out the crafty projects I'm crafting.
And of course, if you make something with one of my patterns, just tag it (#craftleftovers). I love seeing what you've made with your unique leftovers!
Until Next Time!
Kristin M Roach