This past July, I participated in a pencil rubbing swap on Swapbot. It reminded me how much I enjoy and how beautiful this simple technique is. With all the leaves blowing around, there are plenty of things to make textures from. When Kelly C told me she wanted to learn to draw textures, my mind instantly thought about pencil rubbings. I know, not exactly what she had been talking about, but a fun project for leftover paper all the same. Love the way the mind works.
::Materials::
Scraps of thin paper, tissue paper actually works really nicely if you are gentle.
Color Pencil or 6B Drawing Pencil
Scraps of cardstock – 8 1/2 X 5 1/2″ size works nicely for a little thank you card.
Rubber cement
::Making Pencil Rubbings::
First you will want to pick out some nice leaves, the greener the better really. Dry ones will crumble under pressure.
Then, pick out a soft pencil or charcoal (crayons and markers work well too, experiment a little and see what you like best). After playing around a bit, I liked the way colored pencils worked best. I suggest a softer one like Prismacolor vs Crayola.
Rub softly with the side of the lead to discover the edges of your leaf.
Use more pressure around the edges to high light them and work softly between the veins.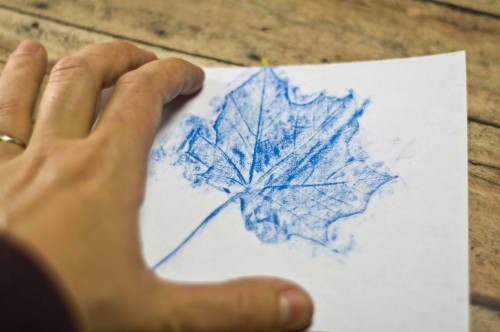 I love tissue paper for making rubbings because you can really pull out all the tiny details.
Take the card stock you want to use for your card and fold it in half. I like the way the raw torn edges look, so I just tore the leaf out of the paper. You can cut it instead. I even played a bit with some decorative scissor for a different look.
Apply a nice thin coat of rubber cement to the back of the paper.
'
Smooth out the paper on the front of the card stock and let dry (like a minute or less).
Play around with different papers, colors, and leaves. Here is a smaller leaf that I made into a 4×5″ card.
I've been trying to get into the habit of giving people thank you cards when they do awesome things – like host a great dinner party. I know it always makes me feel special and "job well done" when I get one. Try it out. It doesn't have to be for anything "huge". Maybe a kind word, a good meal, or an awesome craft zine that they sent you in the mail :)
Happy Crafting!
Kristin