Every winter I have a nice pile of handmade items to keep me warm when I head outside. With that pile comes a dilemma: Where to put them? Originally, I put them all in a basket and put it on the shelf. Being so high up they usually just ended up on the floor because–I have to face it–I can be pretty lazy and so can Jason.
So instead of on the floor in the closet, our hats and mittens started finding their way onto the floor. Yep, lazy.
I went to my folks for the Thanksgiving break and while there received a nice big basket full of goodies from Jason's sister. (Yum and thank you! I'm enjoy a tasty cup of tea as I type this.) When I got home and was unpacking everything when I realized that this basket is the perfect solution for my problem. At first I just hung it around a hanger–good enough. Then I had the idea to tie it up using a piece of selvedge–even better because now it hangs straight.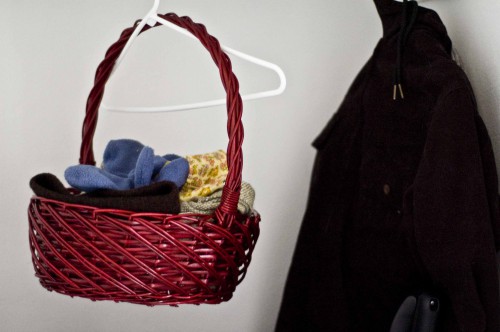 I was thinking, another easy way to keep my winter cozies organized would be to hang a reusable grocery bag or handmade tote.
How do you keep your winter handmade goods organized so they aren't just a pile on the floor?
Happy crafting!
Kristin