Farm Anatomy by Julia Rothman + Giveaway!
I had never heard of Julia Rothman or her latest book Farm Anatomy: The Curious Parts and Pieces of Country Life
 until my publisher sent me this copy. They are so sweet that way, "Kristin, we just know you'll love this book, here you go!" And I do lvoe this book! Another reason I love them. Anyway, reading Julia's book makes me think her and I should be bestest buds. Or at least grab a cup of coffee. Or maybe make some sauerkraut together.


I enjoyed reading her story of expanding her knowledge base from city to farm folk. How her and her husband got back to his roots while visiting his family's farm in Tabor, Iowa (I live in Ames, Iowa btw, Just saying Julia, next time you roll into the midwest we should hang out)…. annnnyway. She set about gathering up and illustrating all the things she learned about farming.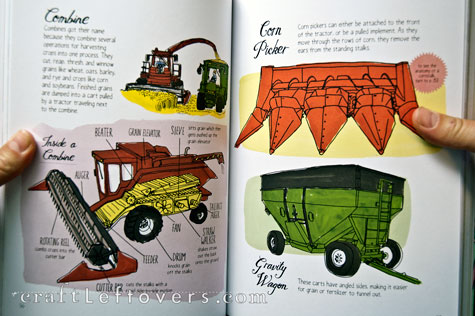 Like the different types of equipment. Little known fact, my Dad (the best dad), works for John Deere and spent many of those years building machines just like those illustrated above.
She also shares all kinds of interesting tidbits like what "a cord" is (firewood stack of a certain size). OR how to properly stack a pile of wood. This was honestly really useful for me since Jason and I got all lumberjack and cut down some trees this summer… that are still waiting to be stacked into nice piles just like these. We probably have a cord worth. Ha, I just learned that.
There's also some classic Iowa Farm recipes, like freezer dill pickles. Yum! I just made some of these this month with my small garden harvest of 3 cucumbers.
And she even goes into some interesting facts about animals. Like parts of beef and pork. Oddly enough Jason and I just got a quarter cow and a half pig of organic beef from our friend's father-in-law.
And the different kinds of rabbits you can raise for meat and fur.
Or the types of flowers you can grow for their prettiness and your plate.
And towards the ends of the book she moves indoors and shows you fun things like cheese making.
Better still, it's all illustrated in her clear, fun style. And, Storey's also offered up a second copy for a giveaway (because there's no way I'm giving away MY copy, ha!). One lucky reader will get a copy of this great book in their hot little hands. Everyone else can buy it from Amazon here
(or anywhere books are sold too).
Enter to win by leaving a comment telling me what your favorite farm thing is by Thursday, October 4th at midnight! The winner will be announced on the 5th.
Happy Crafting (and farming!),
Kristin M Roach