I'm really excited to tell you about a great project I've become involved with and will now soon be the host of here in Central Iowa! It's called the Sewing Rebellion!
I first joined the Stop Shopping, Start Sewing cause 2 years ago when I did an art history (contemporary) project on the artist run space called Mess Hall. They just happened to be hosting the Sewing Rebellion there which was founded, started, and run by Frau Fiber (aka Carole Frances Lung). I decided the best way to do my research would be to go to the space and participate in the workshops. Little did I know what it would lead to. Meet Frau Fiber!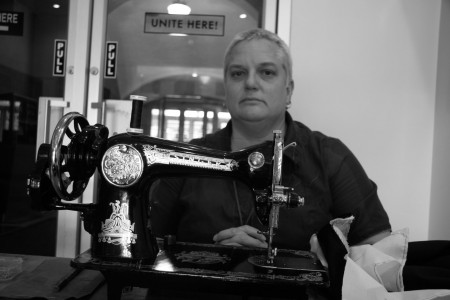 I escaped to Chicago whenever I could after that first workshop I attended. I learned all sorts of great sewing skills, about how fiber is processed, and best of all got to know some really great people.
I participated in the Sycronized Sewing Squad at Links Hall and the Looptopia Festival. Then hosted a sock knitting/knitting in general for the final SB meeting (which turned out not to be the final meeting at all). Since then Frau Fiber has continued to spread the word and it's great to see new chapters of the Sewing Rebellion sprouting up all over the nation. (I'm right behind Frau Fiber in this picture with the tan sweater on)
I started a new blog for our local chapter where you can get the news, notes, photos, upcoming, and various downloads; you can check it out here. You can also see the National Sewing Rebellion blog here to get all the national news and you can ask Frau Fiber a sewing question here. If you are interested in starting your own local chapter of the Sewing Rebellion you can email Frau Fiber at fraufiber (at) gmail (dot) com.
So what exactly is the Sewing Rebellion?
The Sewing Rebellion is a FREE series of sewing workshops!
Frau Fibers Mission: "I WANT YOU, to emancipate yourself from the global garment industry by learning the skills to alter, mend and make your own garments!
Encouraging the REUSE,RENOVATION and RECYCLING of existing garments and textiles in the creation of unique items tailored to YOUR taste and body shape."
BRING: garments to mend and alter; sewing problems to solve; or fabric to use, swap, or donate – free patterns on site to utilize and construct
WHERE: LA, New Orlands, Chicago, and Ames!
Email Frau Fiber about starting your own local chapter or if you live where there is already sewing rebellion, email her about the when and where. Despite her intimidating appearance, she is super nice.