Have you been to Pancheros or Qdoba? Have you tried their naked burritos? They are delicious! After going and spending $6 to get rice, beans, and what looked like what I usually have hanging out in my fridge from dinner the night before, I opted to stop "treating" myself to lunch there, and packing it for lunch instead.
Here's how I generally make mine. You can vary it a lot. Mostly it depend what I have on hand – what came from the garden, the farmer's market, what I made for dinner the night before. On nights we go out for wings, the next day I toss the leftovers in. Today's version is a vegetarian naked burrito.
1 pablano pepper

1 onion

2 handfuls of chopped mushrooms (about 1 1/2 cups)

1 T olive oil

1 t chili powder

1 t paprika

1/4 t cayenne powder
Pinto Beans or black beans? You see that, the black beans on the right have 10 less calories, the same amount of fiber, and 1g more protein. Excellent. Black Beans it is.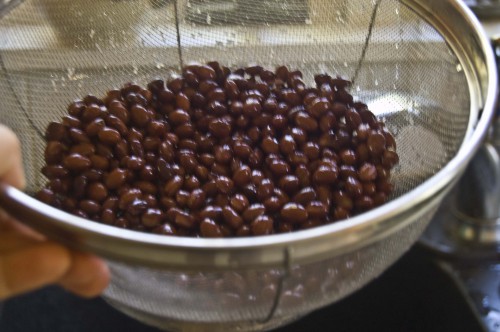 Rinse the beans (whichever beans you decide on).
We have about the smallest rice cooker ever.  But it makes the perfect amount for us. I cooked up 1 cup dry, or 1 1/2 cups cooked. I portioned out more to Jason than myself. Oh and this is another boon of making it yourself. I made brown rice for our naked burritos.
I put all the "to heat" stuff in one and "keep cold" stuff in the other. Then I gave myself 1/2c beans and Jason 3/4c. And portioned out the veggies on top about the same ratio.
And then I put together smaller containers for each of us: 1T sour cream, 2T salsa, 2T shredded cheese.
This is just one scenario. There are all sorts of delicious things you can add to your naked burritos too, not just the combo above.

Alternate tastiness:
jalapeno

tomatoes

olives

avocado

garlic

corn

leftover steak, chicken, tofu

pinto beans instead of black beans

okra
What eating out treat have you opted to start making a homemade treat?
::Kristin::