Two weeks ago, I trimmed down my bamboo shades and realized that I had in my hands the most wonderful leftover–bamboo sticks!
Well, okay, maybe not THE most wonderful but pretty excellent. My mind started spinning with all the things I could do with these piles and piles of sticks that are connected.
And then I realized something tragic. They were unraveling. The leftover section of bamboo blinds were slipping apart one stick at a time.
Well, hmm. That seems like a pain in the ass. Instead of being able to easily make them into coasters, place mats, little boxes, and a million other fun, rustic looking projects, I now was faced with the dilemma of how to string them back together.
Twining. Oh twining, I love you. This, my friends, is a wonderful way to "weave" multiple things together.
To demonstrate it's power I give you:
Sticky Twined Coasters

Materials – makes 1 coaster
30 – fine bamboo sticks (or any other relatively straight stick will do), cut 4″ long
2 yards – cotton warp or #10 crochet thread – fun colors are even better than standard white. In fact, dyeing it using some Kool-aid would be a great way to spruce it up (link to kool-aid dyeing tutorial).
3 3/4 square of felt
Hot glue gun
Cut the bamboo down to size. I used an X-acto knife, but you can use scissors.
To start twining, fold your string in half.
Place the first bamboo in the fold of the string.
Give the string a half twist.
Then place another bamboo piece after the twist and give another twist.
Keep repeating until you have twined all 30 bamboo pieces.
Tie a double knot at the end.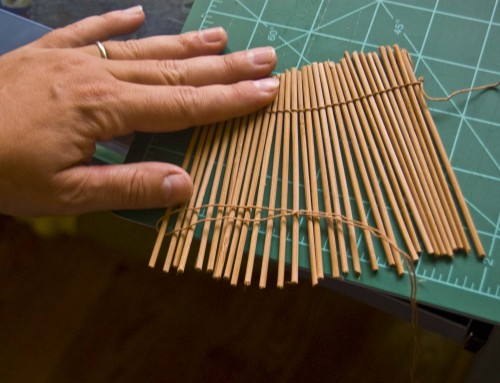 Repeat the steps above for the other side. It helps to hold it over the edge, just twist the string and slip it around the end of the bamboo.
Tie it off at the end. You can straighten out the bamboo a bit by pulling each piece one way or the other + tapping it on the table. If they are still a little jagged you can trim them up with an X-acto knife or scissors.
Dab a little hot glue on the back side of string and fold the knotted ends over so they won't come loose or show. Don't use too much glue though or it will come through to the other side.
Put a bead of hot glue along each row of twining and press the fabric over the back. I like to use a nice piled upholstery fabric, but felt would do nicely too. Use some Fray Check on the edges of the fabric if NOT using felt.
This took me about 10 minutes to make once the logistics were worked out – that included taking photos too! You can use twining to make all sorts of things. Next on my list is some:
placemats
trivet
candle holder sleeve
clay pot cover up
pencil roll
sumi-e brush roll
And the list of neat stuff that you can make by twining bamboo sticks together is unending. What would you make?
Happy Crafting!
Kristin