Thank you Cassandra for reminding me of this little gem of a pattern! I'm happy to add things to the website on a per-request basis. And your timing is excellent, I just found a box of peaches n' creme in my studio clean out. Here the original post with a few edits for ease of reading. Originally published 12/14/2014.
---
---

Coming up on Christmas – just 10 days of crafting/baking left – I thought it was the perfect time to give you all some ideas for some last minute gifts. This weekend I've spent some time on a hand full of things like scarves, hats, and bootwarmers. But for this first last minute gift, I thought I would go with the one I've been making in mass for all my friends and fam: Crochet Dishcloths.
Crochet dishcloths make the perfect last minute gift. You (and I) can tuck it into a basket of baking or tie with a card for extended family, neighbors, co-workers. One evening of crocheting and you can easily have half a dozen or so. And they are useful! And by next year, they should be worn out enough that no one will mind getting more! Excellent! (In theory anyway, unless you have friends who cherish them like gold plated fine china in which case they are making a shrine to your crafting efforts and that's okay too). Jump to the bottom of the post for the free crochet dishcloth pattern I love to make.
For the most part, I grab my favorite stitch dictionary, select a slightly textured heavy weight pattern, and have a go at it. FYI, if considering stitch dictionaries, I highly recommend Harmony Guides: Basic Crochet Stitches
.
I have often wondered what size I should crochet my dishcloth. Sure I could go measure the current ones in my kitchen, but when making them from yarn, there are other considerations. Like how wide should it be if I want to get two out of one ball of peaches n' creme with no leftovers and have it be a square shape?
It took a few evenings of crocheting, but I finally had the answer to my query. Right drape, right size, right stitch pattern, right amount of yarn leftover (umm, zero!). I liked the drape and texture of this simple half double crochet and slip stitch "scrunch stitch" pattern. I used a size H hook (tried a G, D, and I).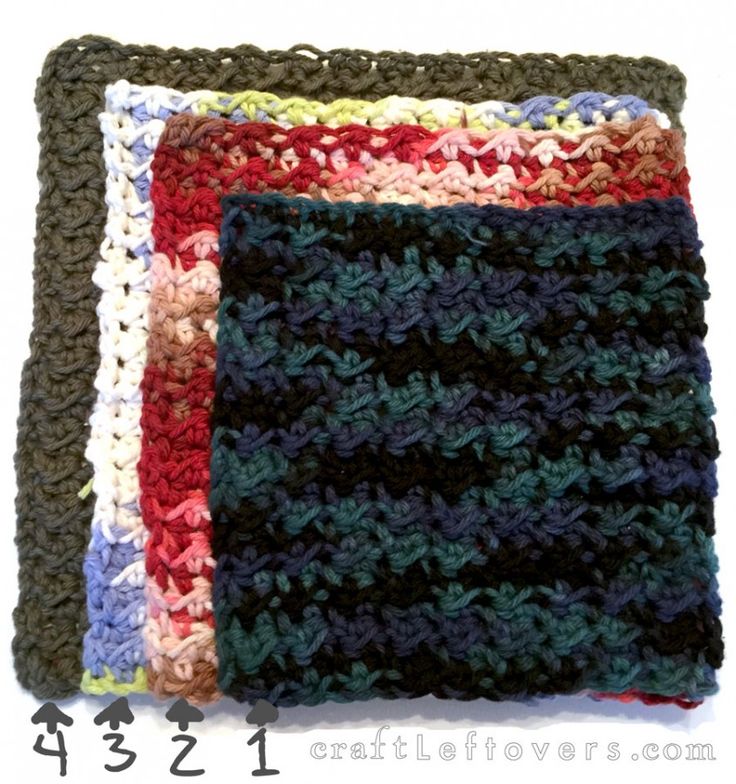 There were four sizes that came out of all this. First I started out with a foundation chain of 27 (#4), then 21 (#1), then 25 (#3), then 23 (#2). Of course the last one I tried, 23, was the magic number that allowed me to make two of the same size out of one ball of peaches 'n' creme yarn with no leftovers left.
---
Free Yarn Maximized Dishcloth Pattern
---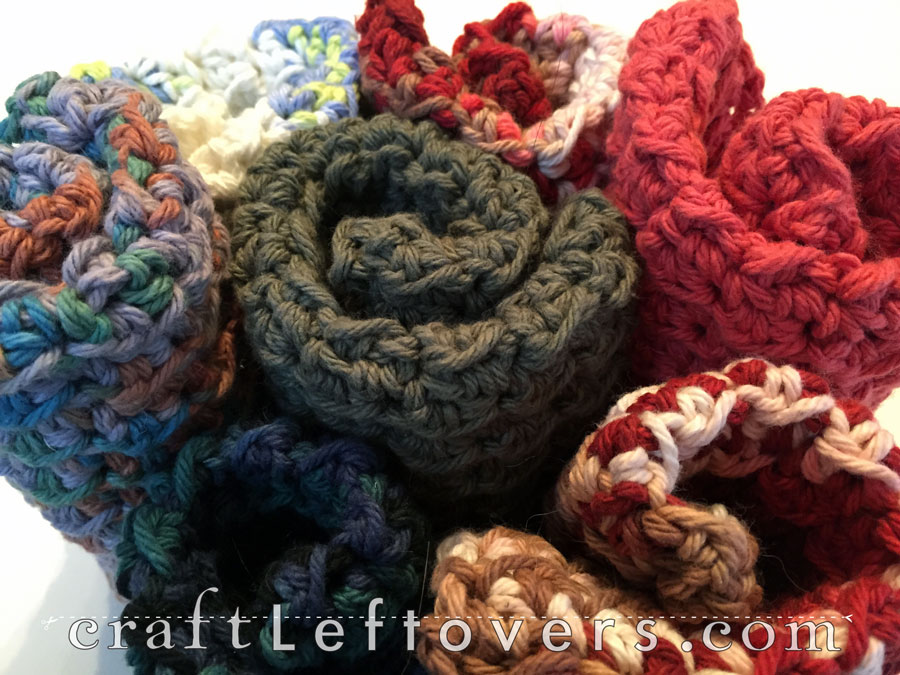 ---
---

Notes: If you want to make your own of any of the sizes I played around with, here's the pattern for it all written up. Make a foundation chain of 23 (bolded), if you want to get two out of 1 ball of yarn.
Sizes: 1(2,3,4) = small (medium, large, x-large) 
Material: 1 ball – Peaches 'n' Creme Yarn – 100% Cotton Yarn. Worsted Weight. 120yds/109m. 2.5oz/70.9gm
Tools: Size H (5mm) crochet hook
Gauge:  10sc = 4 inches
Abbreviations
st – stitch
ch – chain
sl st – slip stitch
sc – single crochet
hdc – half double crochet
Directions
Chain 21(23,25,27), turn.
Row 1: Sl st in 2nd ch from hook, *hdc in next stitch, sl st in next stitch*, repeat * * to end, turn; if done correctly, you should end with the slip stitch.
Row 2: Ch2 (counts as 1st hdc), sl st in next st (should be top of hdc in previous row),  hdc in next stitch (top of sl st in previous row, repeat * * to end, turn.
Work as row 2 until you have a square. Cut yarn and pull through last loop. Weave in all ends to finish.
Have fun crocheting up a storm!
---
---

Sign up for the Craft Leftovers mailing list to get a monthly update of new content and re-releases. You can also follow me on Instagram to check out the crafty projects I'm crafting. And of course, if you make something with one of my patterns, just tag it (#craftleftovers). I love seeing what you've made with your unique leftovers!
Until next time!
Kristin