Way back in 2006 I wrote one of my very first sewing patterns, a little quilted pot holder. The idea was good, but even back then it didn't turn out quite right. So, as I've been poking around in the archive, I came across it and decided to remake it how I had always pictured it in my mind. That and I need some new pot holders around the house!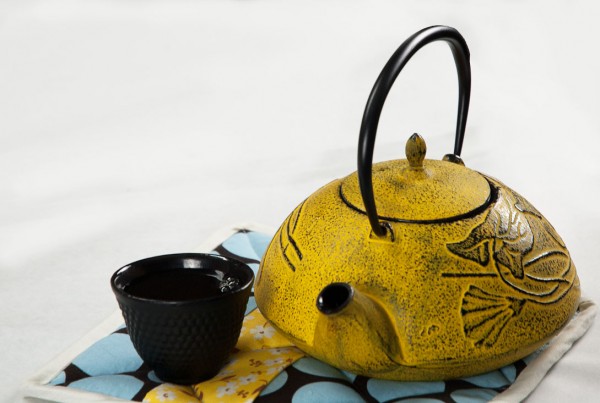 Materials
2 – 9×9″ squares of cotton fabric
40″ of bias tape
1 – 9×9″ square of cotton batting
thread
9×9″ heat resistant fabric (silver fabric, thinner than you'd think sold in the utility fabric section).
Notes: Keep the tension loose when quilting all the layers together or it will pinch the fabric too much An earlier version of this pattern was published in November of 2006 on the Craft Leftovers Blog. Here I've remade it, updated the pattern instructions, and added more photos of course!
Step One: If you are working from a pile of scraps, piece them all together so you have two 9×9″ squares. Now don't be lazy and go ahead and press those seams as you go. You won't be able to show off that pot holder with pride if it's all lumpy.
Step Two: Layer all your pieces together like so: Contrasting fabric right side down, batting, heat resistant fabric right side up, main fabric right side up.
Step Three: Pin layers and stitch two intersecting lines. Sew two more sets of intersecting lines like so:
It's helpful to do a basting stitch (long straight stitch) around all four sides to hold all the layers in place.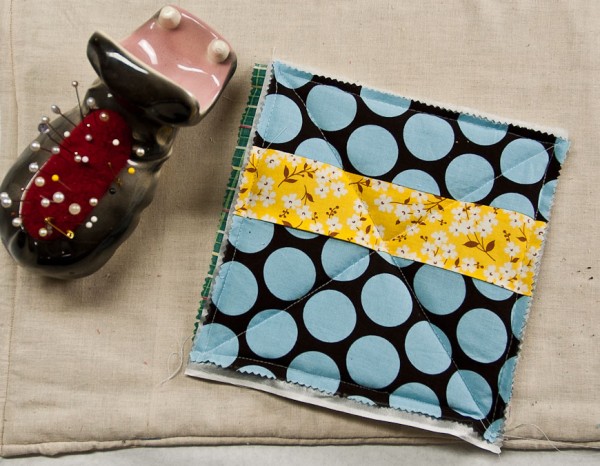 Mark out the second set of lines by measuring 3″ from the center line. I used a quilting ruler that just happened to be 6″ wide. Lucky me!
Step Four: Sew on the bias tape. Now you'll do this just like the edging of the quilt:
A: Pin to one side, right sides together, and stitch.
Just make a little pleat to turn the corner.
Flip the bias tape right side out and it will naturally want to wrap around the edge.
B: Turn over the edge, pin in place, and stitch again. Done.
I opted to stitch this last step up by hand, but you can use a machine just as easily.
And done!