How long ago was that post about this poor forgotten shirt dress? Umm, months. Well, I got the sewing bug bad this past weekend and finally finished it. I took the time to add a few special touches and they were so worth it.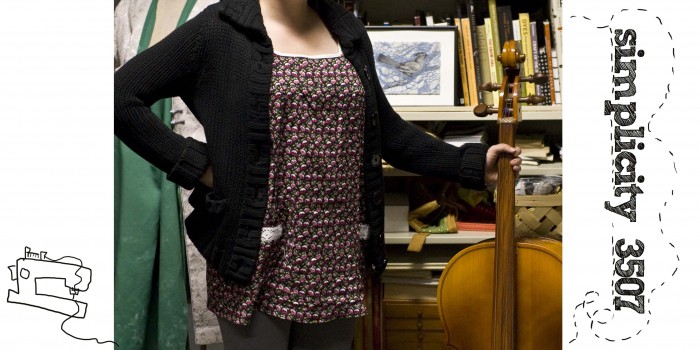 Pattern: Simplicity 3507 – inspired by Project Runway series
Pattern size used: 15/16
Fabric: Thin cheap-o cotton from Jo-ann's "Red Tag" pile – about $2 a yard and used 1 1/2 yardsish.
Time: Honestly no clue. There was a lot of hemming and hawing and chatting and coffee drinking. I want to say 6 hours, but that may be because of all the ripping I did on Saturday. A semi-sane sewer would be able to whip it together in 4 or less.
Alterations: Okay, I know I need to lose some weight (lost 1 inch this month, hooray!), but how much would a person weigh if they fit this in it's first go? I made the size for 36″ bust and it went past my knees. I had to take off 5 inches to get it to come to my upper thigh like in the picture. I made it fall right below my behind and is a bit more like a tunic/smock than a dress. No worries. I wish I would have taken a picture, that would have been a good before and after.
I used some vintage shirt fabric for the bodice liner, which turned out really nicely–super soft. The arms and neck are trimmed with 1/2″ bias tape. I'll show you how to do that on Friday. I remembered to take pictures. :)
To help accent the pockets, I added a little bit of lace from my grandma's stash–finally, an appropriate project! I think she would be happy to know I'm incorporating it into the clothes I make for myself.
I'm so happy to have finished this project–shirt #3 finished! Before you know it, I'll be wearing 100% handmade clothes like over on MakeShift.
I think the Butterick Fast & Easy B5210 will be next. We will see how fast and easy you are, Butterick. Don't make me make a liar out of you.
Happy sewing!
Kristin Roach
[ad#Adsense-post][ad#Flattr]