This week I'm on the trail of RAGBRAI for the first time. In fact, when this post goes live I'll be well on Day 2 of riding. I'm nervous. I'm excited. And I'm dreaming about all the cool things I should make for my bike.


 1. Making my first cycling cap, plus a walk through of the process, here on Craft Leftovers.
 2. Shop 'n' Ride – a pattern for a tote that will perfectly fit your bicycle basket, here on Craft Leftovers.
 3. DIY Cycling Light on the Etsy blog.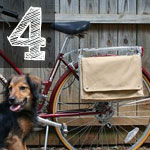 4. DIY Panniers – a pretty nice quilted pattern.
 5. If you've felt intimidated (like I did) about riding a road bike for the first time, you should read this great article and walk through on Lovely Bicycle.
 6. Making your bicycle basket into a picnic basket on Design Sponge.
7. Buying my Motobecane on Craigslist.
8. Cycling craft round up that I did last summer, loads of lovely skirts, bags, and etc to make for your bike.
For my triathlon riding, I have a ridiculously awesome, hi-tech, fancy-pants new bike (on the left). We got it on craigslist. In contrast, for RAGBRAI, I'll be riding my ridiculously awesome steel lugged mixte framed Motobecane that I've been restoring (on the right) and also purchased from craigslist. It's a beauty. And it now officially outfitted with a handlebar bag, lights, and a water bottle cage.
I can't wait to really put it to the test. In the last 34 years it's only been ridden about 200 miles (mostly by me last summer), in one week I'll be riding it almost 500!
And look at these climbs! Over 1500 miles of climbing ever single day! Geesh.
But, it's not a race. There's towns about every 10-15 miles that you can stop, get a drink, sit in air conditioning, eat church food, pie, lemonade, nap in the shade (if you can find some!). So it should be just fine.
Have any of you done a long distance ride? What was it like? Any tips for a newbie?
Happy Crafting and Riding!
Kristin M Roach