Every Thursday I make my way to the local library to peruse the books on my current topic of interest (lately herbalism, greyhound adoption, and botanical illustration) as well as check out the newest craft books (which is usually quite a few because the circulation manager happens to be a crafter! Lucky me!). I was pretty excited to see a book pop up in my craft category search titled Crochet  Master Class: Lessons and Projects from Today's Top Crocheters. Hmm, master class, hmm, crochet, excellent!
While I wouldn't consider this an advanced crochet book, it definitely expands one's repertoire of what crochet as a crafting genre has to offer. The book is broken down so well (something I have a deeper appreciation of now that I've had to map out my own craft book) into 18 crochet techniques. Each technique is presented by a master crocheter, accompanied by a selections of designs, and at least one pattern using the technique. Lastly, it has a tutorial on the technique's foundation, like how to follow a hairpin pattern and execute the basic stitches. There's also a small section on the history and usage of each technique, which deeply appeals to my love of the history of all things creative.
The designs representing the 18 techniques are so well done too, my particular favorites are: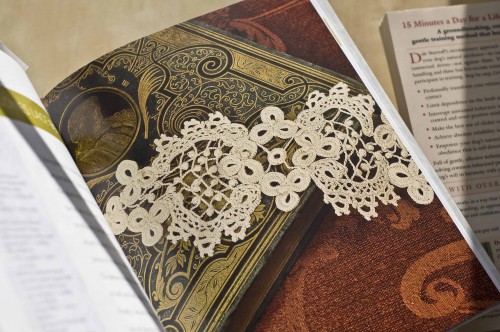 All and all, I would say this is a great book to add to my craft book library since I have yet to have a book containing many of these techniques. Really the range of techniques is this book's greatest strength. Plus, it meets my 3 pattern rule–meaning I would like to make at least 3 of the patterns in the book (which warrants the $12 price tag or $4 per pattern). I don't think I'll add it just yet though since I'm deep in the trenches of finishing my book. It's definitely on the list of "to add" though.
Now that I've indulged myself in some crochet fun, it's back to stitching up mending samples for the book.
Happy crafting!
Kristin