The very nature of being a zine maker leads me to own a crap ton of zines. I've participated in swaps, I've purchased them from around the world. I've been given them by friends. And I have multiple copies of my own zines of course. Now, all these zines…I love each one. But they've ended up languishing in a cardboard box. That really sucks. I want them to be out. I want to enjoy them. I want to easily thumb through them and be inspired by them, even my own past work. It sounds egocentric I'm sure, but practically speaking, you can learn a lot by looking on past work–things that have been lost sight o, or even reflecting on ideas and layouts that went horribly wrong.
Did you know Craft Leftovers Monthly has 37 issues? Issues 1-14 were limited edition, never to be reproduced, 15-26 are available as back issues (Volume 1) in the shop, and Volume 2: Issues 1-11 are now available as a box set and singles. Volume 3: Issue 1 (the 38th issue)? That will be available on Monday.
I'm still stunned that I've put out 37 zines, actually 4 mini zines + and ebook too! Wow. Holy crap. I've been making them for 3 years now, heading into year four.
Volume 3 is going to be different. You see, I've reworked the format for the new volume. I'm taking it back to a more intimate size, but keeping all my favorite things from Volume 2. Kind of like when I looked at the blog from my readers' perspectives, I'm looked at the zine with those same eyes. Just like when I cozied up to my favorite blogs, I've spent the last few months cozying up to my favorite zines.
I like pocket sized zines. I like zines that are around 20 pages. I like zines that work with a theme. I like zines with good art and attention to detail. Here is what inspired the current volume, all of my favorite zines.
Quite a few zines I love
Tangle Craft zines – These zines are amazing, hand crafted, quality story telling, inspiring construction, ideas, and images.
Croq Zines – and holy crap she just finished issue #12! The first in 3 years! I'm so excited because I was planning on writing "I really wish this zine was still in production," but I don't have to write that now!
The Beany, Start to Draw Your Life, and other Micheal Nobbs Zines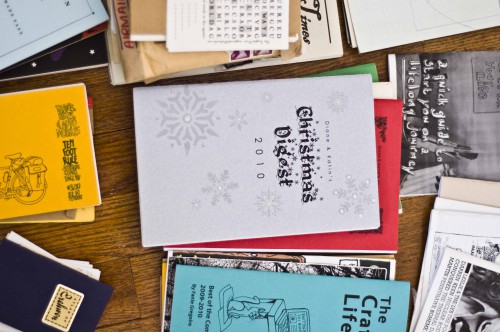 Oh the Christmas Digest from Sister Diane
Locally: The Catholic Worker (the zine for the local Mustard Seed Coop Farm) and The Ames Progressive (which I helped with for just about a year) and my good friend Linda's zine/booklet of poetry. (She edits Craft Leftovers Monthly just about every month, and when she isn't able to, it sure does show!)
Not to mention all the zines I get from zine swaps, indie books stores, friends, and whenever I go anywhere new I hunt them out.
I especially love zines about bicycling–like Saddle Sore and this sweet little zine about bicycle adventures. Oh and zines about zines like: Make a Zine!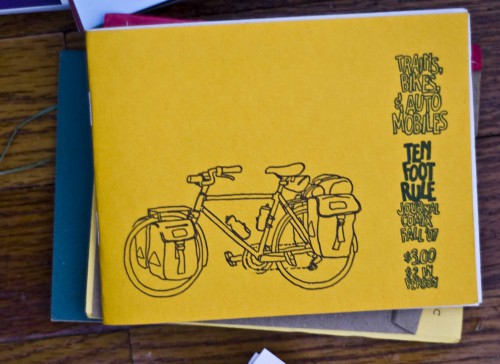 I decided it was time to make a change. No more cardboard box for my zines! But what then? Seriously? They are all different sizes. Some of them have things in them, like most of the issues of Tangled Kingdom.
It's not like I can just toss these on a book shelf. I can't really see them and enjoy them all crammed together. They get bent up and damaged and slide behind the bookcase. No good. Well, I came up with a great solution, I hinted at it on twitter the other day–zine boxes. I'll show you how next Friday. I have my own zine to finish. I'm printing it Sunday night. I'm so excited.
What zines inspire you the most? What's your favorite zine topic? How do you organize your personal zine library?
Happy crafting!
Kristin