I have been wanting to make gauntlets for a long time now and, guess what? I did! And then I made another one! Haha. One is knit and one is crocheted, so a little something for everyone (well, unless you are a sewer only, in which case, I might make a sewn one soon).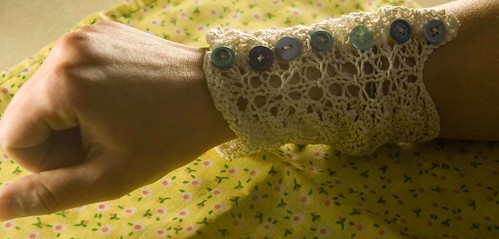 I made these using, of course, vintage buttons from my stash. I really like this project because use can mix and match buttons, which is great because I have a lot of stray dogs in my stash.
Oh and the yarn, which I'm sure will be asked about, is the yarn I recycled earlier this week and posted about here. It's fingering weight 80% silk/20% nylon and blocks really well.
Snow Drop Gauntlet Pattern: Knit or Crochet
Ingredients:
20g or less of sport weight silk yarn
7 – 3/8" buttons
For Knit:
Size US 5 (3.75mm)Straight or Circular
Needles
Gauge: 6 sts/inch
For Crochet:
Size D (3mm) Hook
Gauge: 4 dc/inch
Crochet Gauntlet
Chain 42.
Row 1: Skip 2ch (count as 1dc), 1dc into each of next 4 dc, *skip 2ch, 1dc into each of next 4ch, 2ch, 1dc into each of next 4ch; rep from * to last 6ch, skip 2ch, 1dc into each of next 3ch, 2dc into last ch, turn.
Row 2: 3ch (count as 1dc), 1dc into first st, 1dc into first st, 1dc into each of next 3 sts, *skip 2 sts, 1dc into each of the next 3 sts, [1dc, 2ch,1dc] into 2ch sp, 1dc into each of next 3 sts; rep from * to last 6 sts, skip 2 sts, 1 dc into each of next 3 sts, 2dc into top of tch, turn.
Rep row two 14 times total.
Fasten off and weave in all ends.
Knit Gauntlet
Cast on 51 stitches using a cable cast on.
Row 1: Knit all.
Row 2: *(K2tog) 3x's, (yo, k1) 5x's, yo (k2tog) 3x's; Repeat from * to end.
Row 3: Purl all.
Repeat rows 1-3 12 times total.
Bind off all stitches loosely and weave in ends.
Finishing
Block gauntlet to stretch out the lace points and dips in the feather and fan patterns.
To block, wet the knit or crochet gauntlet thoroughly, press out excess moisture, lay flat on a thick towel and pull out edges to the shape you want your gauntlet.
Once dry, sew 7 buttons along one edge, spaced approximately 1 inch apart from the center of each button.
+++++++++++++++++++++++++++++++++++++++++++++
I was going to announce the winners of the Button it Up mail in drawing today, but, even though it may seem I'm here, I'm not! I'm out of town! Hehe. I wrote this up last night and scheduled it to post automatically. I wanted to make sure to be able to pick up the last of the mail before choosing a winner, so I'm extending it out to over the weekend. I'll announce the winner (and send out the prize :P ) on Monday afternoon!
See you all soon! Have a great crafty weekend!
Kristin