Disclaimer: This post contains affiliate links to help Craft Leftovers keep producing free and open content for all.
On February 17th, I woke up early and headed off to the Iowa State Research Park Core Facility to present my entrepreneurial story to our local 1 Million Cups chapter. When I first accepted the invitation to speak, I was planning on giving my well practiced story of Little Woods.
But this isn't the general public, it's a room packed full of business owners, advisors, and aka Experience, and they are there to ask probing questions about the presenter's business. I decided to scrap my usual presentation and tell my whole entrepreneurial story. Starting with Craft Leftovers and coming full circle with this year's launch of my art business this October.
And it worked. For the first time I was able to successfully weave a narrative of my creative entrepreneurial path from the start to now and how I have three businesses instead of just one (art, craft, tea).
A New Post Series
I expected these great business minds to school me in the Q & A section. And they did ask some great probing questions about the future of virtual events for us and etc. But the most surprising thing happened, I was asked what advice I would give to other creatives facing turning their passion into a business.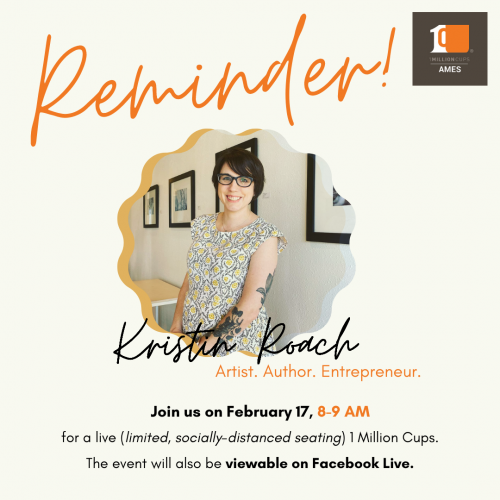 The specific questions were so good and my answers so long, I've decided to write a couple more blog posts on the topic surrounding creative entrepreneurism. And while I'm there with Little Woods, it's something I'm just getting working on as I launch my art biz this year and reboot Craft Leftovers.
Overall the 1 Million Cups event stretched me. I feel I did well making the most of the opportunity and sharing my story with like minded people in my community. I'm excited to start attending these events virtually each week here in Ames and support others as they supported me.
---
Show Notes
Show notes promised – round up of resources that have fostered a creative entrepreneurial mindset and continue to help me grow as a business owner and creative person.
Books to Inspire
Podcasts I Listen to
Online Classes
Organizations that Support Creative Entrepreneurship
Until next time….
Kristin M Roach