Today I wanted to share with you something a little different. It's a project that has literally been keeping me up at night and last Friday I finally sent it off into the world. Our main contact at the location asked, "Does it feel like you are leaving your kid at daycare for the first time?". She couldn't have been more right! It was so hard leaving it there. Not watching over it. Making sure everyone played nice.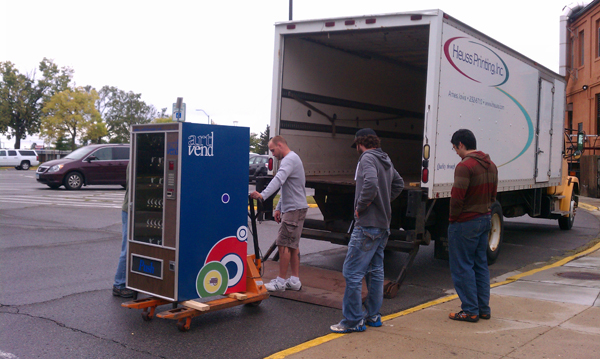 Last Thursday night I could hardly sleep, in fact I didn't. Those last minute details–like applying inventory stickers to items–always take longer than I think they will. I think I got about hour hour of sleep, maybe, because I was so excited that the day had finally come (and there was a load of work to finish before dawn!). Myself and the whole Ames C.art team have been working on a vending machine project called ArtVend since last January 2010. We planned, schemed, fund raised, purchased a machine, cleaned it, changed out the lock, checked all the electronics, sanded, primed, painted, and finally applied the design and logos.
This project is really great for a few key reasons that we love to point out to anyone who will listen:
It's 100% local – everything was made within 50 miles of Ames
It's art and craft side by side!
20% is donated to charity (thanks to Wheatsfield's generous donation of their "cut")
It's 100% paid for! We were able to raise enough funds through kickstarter and our rummage sale to fully fund the machine.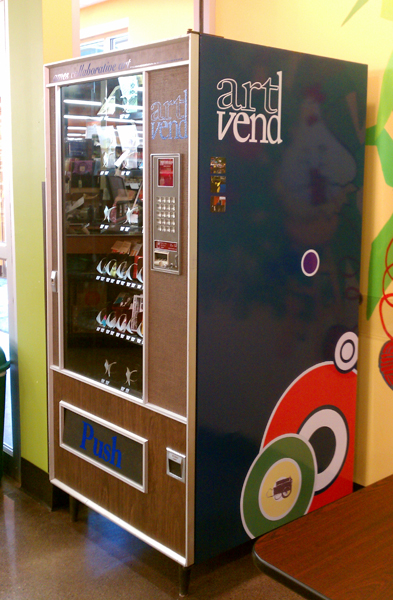 I never thought I would consider myself a community art coordinator, but here I am, my second year in a row, heading up a large community art project and getting to do all the art for it too. That's my design on the side, and I made the logo too! I laid everything out using Adobe Illustrator. We used adhesive backed vinyl for the design. It looks so clean and sharp – so much nicer than if I had tried to paint all those curves!
I started out in graphic design and illustration and in an odd series of events, find myself returning to those roots well after finishing my degree in oil painting. But I love it! And I love oil painting still too. It's been a fun summer packed with projects–like my first solo show here in Ames that I had at The Space in July (I just picked up my paintings last Wednesday).
Wheatsfield was really pleased with how the machine turned out and is happy to be the host for the next year.
This project is so much fun. We are stocking the machine with work from local artists – so if you happen to live within 50 miles (give or take) of Ames, Iowa (or grew up there/have significant ties to our community) than you can submit your work to be stocked in the machine. Or if you happen to wander through Ames, come visit the machine, it's located at the Wheatsfield Co-op! You can get all the details on the Ames C.art website.
Happy Crafting!
Kristin