I've been joking around all year with friends about my potato tower of power. Using minimal space, you get a huge harvest of potatoes, and they are relatively easy to retrieve. I finally got to harvest the fruits of my labor!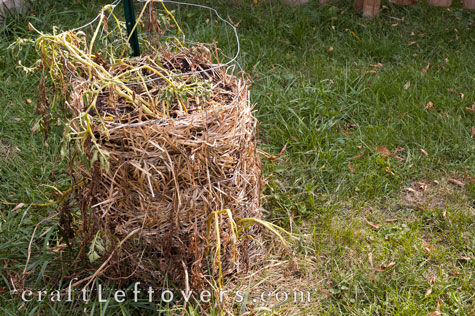 And it was really underwhelming. This year we had a drought and that changed everything. Usually the tower is perfect for potatoes because you need good drainage. Potatoes are really susceptible to rotting if they get too wet.
But this year, that great drainage has worked against me. It's been impossible to keep those potatoes hydrated.
Honestly I'm surprised they held on at all.
But that still didn't change my feelings of disappointment when I harvested what must have been less than the seed potatoes I planted.
I suppose if everyone of the potatoes I dug were the size of my fist it would have been considered a good harvest, but they were smaller than walnuts (walnuts minus their hulls!). So I got about 2lbs of potatoes from my 10lbs of seed potatoes. Herumph.
Normally I would have left them in longer, until the tops died off completely and then waited another week, but Jason and I are headed out on vacation on Thursday — it's our one year anniversary — and we won't be back until later this month. We've already had 1 frost, so I don't think I could let them sit. I'm also harvesting all my tomatoes and peppers before we head out too. And fixing a window. And mowing the yard one last time. And doing about one million other things that people do before leaving their house for 3 weeks.
Anyway, it's been a good experiment, but I think next year I'll try mounds for my potatoes. I love them so much, they are worth the room they will take up.
Gardening is often thought of being resourceful, and in a lot of ways it is — once you know what you are doing. And if the weather is your companion instead of your adversary. I love it, and most of the time it does save us money AND is really rewarding.
Because, resourceful or not, gardening on a small or large scale connects you to the earth and the food chain and history in an undeniable way.
Sure I feel disappointed about my potatoes. But could you imagine that my failure to have a good potato crop meant we had no potatoes all winter? OR that my crop failure meant my family was facing the serious problem of how to survive the winter?
Scary.

br>
How'd your garden fair this summer? Have you been able to pull anything delightful from the ground?
br>
br>
Happy Homesteading!
Kristin M Roach